This post was sponsored by Smithfield as part of an Influencer Activation for Influence Central and all opinions expressed in my post are my own.
Recipes and Tips for Summer Grilling

Food Lion Has Every Thing We Need For Summer Grilling
Summertime is my favorite season for many reasons like all the swimming, camping trips, road trips, and weekend grilling. Grilling in our house it is all about TEAMWORK! My husband and I will go through menu ideas then go shopping at Food Lion since they have a wide selection of the items we need. I love ONE STOP shopping! Plus they have our favorite Smithfield®Extra Tender Fresh Pork Ribs. Plus right now Food Lion has a $1.00 OFF Coupon for Smithfield Extra Tender Fresh Pork Ribs.
Smithfield Extra Tender Fresh Pork Ribs contain no artificial ingredients and they are enhanced to be as juicy and tender as possible. Also, be sure to look for the "Pitmaster Preferred" stamp on every package of Ribs. You really can't go wrong with Smithfield Extra Tender Fresh Pork Ribs.
Smithfield Extra Tender Fresh Pork Ribs perfect for summer grilling
Smithfield Extra Tender Fresh Pork Back Ribs

Smithfield Extra Tender Fresh Pork Spareribs

Smithfield Extra Tender Fresh Pork St. Louis Style Spareribs
Summer Grilling Tips
Make sure to preheat the grill. For High Heat 400-425, Med High 350-400, Med 300-350, and Low is 250-300.
Remove debris from the grill after it preheats with a long handled wire grill brush. But also scrape after you are done, keeping a grill clean is important.
Oil the grill before cooking, use a paper towel that is soaked in vegetable oil. Hold the towel with tongs and rub it all over the rack. Don't use cooking spray!
Food safety is essential when grilling since you may be cooking different meats and you don't want cross contamination. Use separate cutting boards, utensils, and plates for raw and cooked food.
Allow meat to rest on a plate for about 10 minutes, cover with a tent made from foil. This helps not to OVER COOK your meat.
Ribs with Cherry-
Chipotle

Glaze

For my summer grilling ribs I found the recipe on Smithfield.com -Cherry-Chipotle Glaze, a sweet and spicy flavor! Recipe BELOW!
Grilled Corn with Herb Butter
INGREDIENTS
1/2 cup (1 stick) unsalted butter, room temperature
2 tablespoons finely chopped fresh tender herbs (such as cilantro, chives, and/or flat-leaf parsley)
1 1/2 teaspoon kosher salt
1/2 teaspoon freshly ground black pepper
Cayenne pepper
8 ears corn, shucked
1 tablespoon vegetable oil
PREPARATION
Prepare grill for medium-high heat.
Mix butter, herbs, salt, pepper, and a pinch of cayenne pepper in a small bowl. Set herb butter aside.
Place corn on grill and brush with oil, turning often, until it is tender and charred in spots, 5-8 minutes.
Transfer corn to a large platter or bowl and spread with reserved herb butter, dividing evenly.
TIP*** Herb butter can be made 1 day ahead. Cover and chill. Bring to room temperature before spreading over grilled ears of corn.
We have given you two recipes, so now it's your turn to go to Food Lion and get your favorite slab of

Smithfield

Extra Tender Fresh Pork Ribs and make sure to use the $1 OFF COUPON! We would love to know what recipe you like to use when you grill ribs and what side dish do you like the best- Leave us a comment below!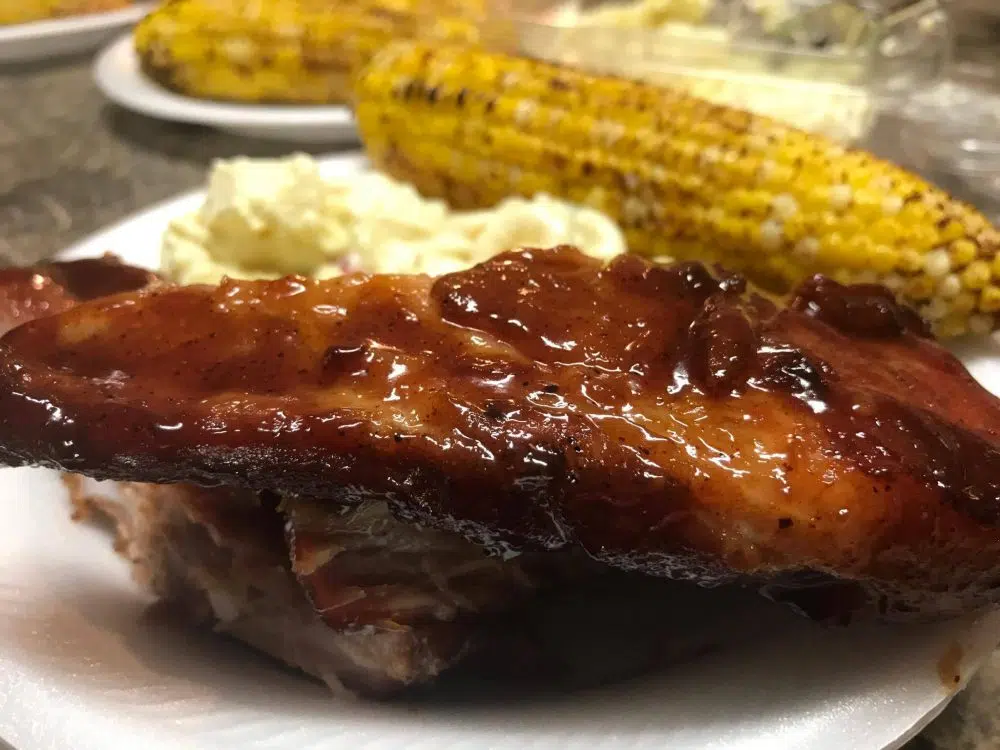 Ribs with Cherry-Chipotle Glaze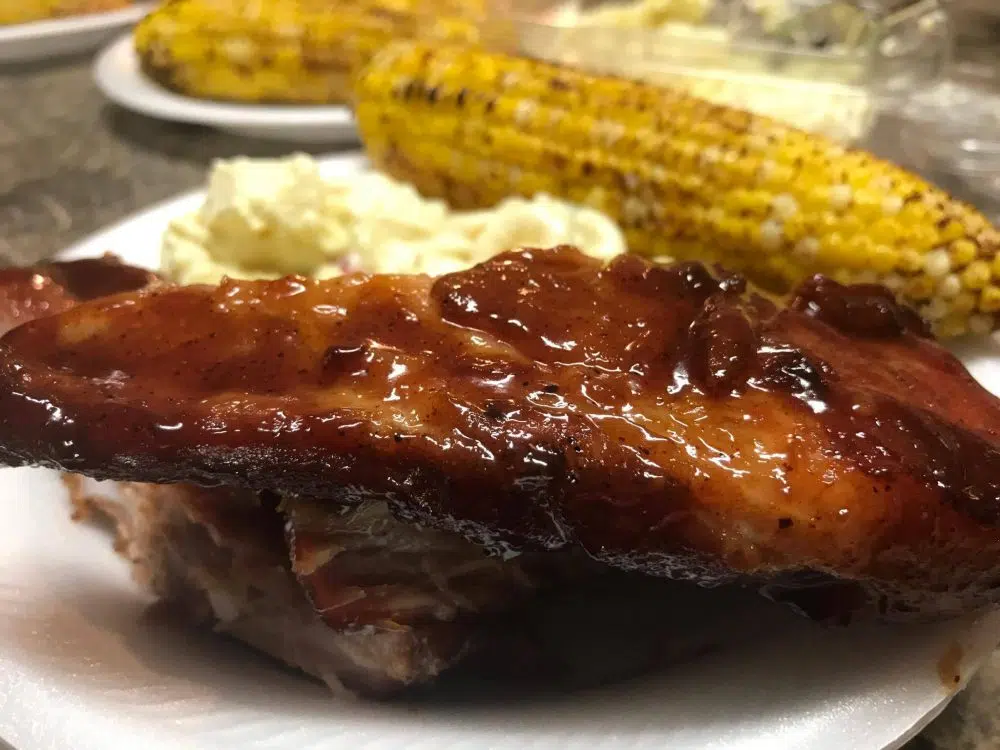 Summer Grilling at its BEST!
3/4 cup apple juice in a spray bottle
2 racks Fresh Pork Back Ribs (about 3 1/2 pounds each, membrane removed, cut into smaller pieces, if necessary, to fit on the grill)
1/4 cup light brown sugar (packed (for rub))
1 tbsp kosher salt
1 tbsp sweet paprika
1 tsp chipotle powder
1 tsp granulated onion powder (for rub)
1 tsp granulated garlic powder (for rub)
1 tsp ground black pepper (for rub)
1.5 cup ketchup
1/2 cup light brown sugar (packed (for sauce))
1/2 cup plus 1 tbsp distilled white vinegar
1/3 cup plus 1 tbsp water
1 1/2 tsp Worcestershire sauce
1 1/2 tsp chili powder (for sauce)
1/2 tsp granulated onion powder (for sauce)
1/2 tsp granulated garlic powder (for sauce)
1/2 tsp chipotle powder (for sauce)
1/4 tsp ground black pepper (for sauce)
1/3 cup cherry preserves
1 handful wood chips for smoking (ideally hickory or fruit-flavored, soaked in cold water for 30 to 60 minutes and drained (optional))
About one hour before you plan to start grilling, make the rub: In a small bowl, combine the brown sugar, salt, paprika, chipotle powder, onion powder, garlic powder and pepper.
Pat the ribs dry with paper towels, then sprinkle both sides of each rack with the rub. Set aside at room temperature for one hour.
Preheat the grill for indirect cooking at 250 to 300 degrees F. Add the drained wood chips, if using.
Place the ribs, meaty side down, over a drip pan, close the grill, and cook for 2 hours, spraying on both sides with the apple juice every 20 to 30 minutes, and adding about 12 coals to a charcoal grill every 45 minutes or so to maintain the heat.
Meanwhile, make the glaze: In a medium saucepan over medium heat, combine the ketchup, brown sugar, vinegar, water, Worcestershire, chili powder, onion powder, garlic powder, chipotle powder and pepper, and bring to a boil. Reduce to a simmer and cook 20 minutes, stirring frequently, until lightly thickened. Remove from the heat and stir in the cherry preserves. Set aside to cool.
Remove ribs from the grill. Double-wrap each rack in heavy-duty aluminum foil. Return wrapped ribs to the grill and cook until very tender and meat has shrunk from ends of bones by about 1/2 inch (open packet to check), 1 1/2 to 2 hours more, adding more coals as needed to charcoal grill.
Remove ribs from grill. Being careful of hot juices, unwrap ribs. Return unwrapped ribs to grill and brush the ribs with the sauce and continue to cook for about 5 minutes, until the sauce is set. Turn ribs and repeat with more sauce. Remove from the grill and let stand for 5 minutes.
Cut the racks into 3- or 4-rib sections and serve. Serve immediately with the remaining sauce. (Leftover sauce can be refrigerated for up to 2 weeks.)