Subscription boxes are quickly becoming a favored gift idea for many. Well now they have become caffeinated! Devocion has farm fresh coffees for all of the caffeine lovers on your holiday gift list.
Subscription Boxes Just Got Caffeinated!
Devocion is the ONLY farm to table coffee roaster in the WORLD! That's pretty fantastic! This means your coffee is as fresh as it gets, which also means it tastes that much better! It all starts in Columbia. Devocion hand selects farms in the far out, untamed reaches and has the beans harvested.
Because they're fair trade, it benefits the growers, and of course us. They even pay the growers ABOVE fair trade prices to help them out more. Devocion has even established economic and social programs for the farmers and their families.
The Beans
Devocion has the beans dry milled in Bogota, then they're shipped right here to the United States of America. Just ten days after they're "green" they're ready to be roasted. This ensures that the freshest and tastiest coffee is delivered to your door.
The Subscription
You can choose to receive or gift coffee weekly, every two weeks, three, or once a month. You can pause, cancel or upgrade the subscription at any time as well. Choose to get or give one bag, two, or three. Gifts start at just seventeen dollars. You can't beat that. The coffee connossieurs on your holiday gift list are going to love Devocion. Secret Santa at work? Give Devocion!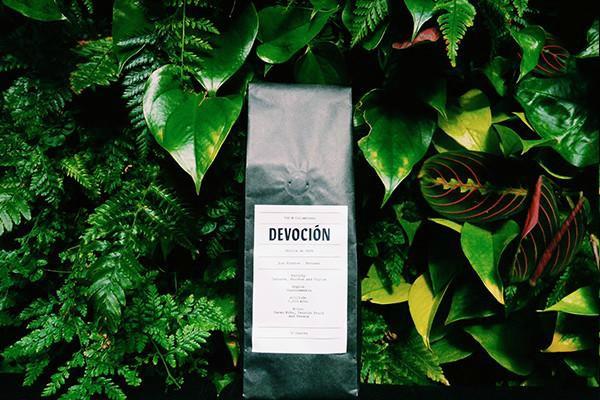 What we think
We recently got a bag of their Red Barrel beans. This brew has notes of blackberry, pomegranate, raspberry and lemongrass. It is so good! It's rich, and full bodied, and leaves you wanting to drink more of it dark and tasty goodness. My husband is picky when it comes to coffees, and he loves it as well. (Which is a bit of a bummer because that means less for me! Guess he better buy me some more!)
To get your bag of awesome coffee, or to order it for a gift, head to Devocion. Be sure to follow them via Facebook, Twitter, and Instagram too.