Everyone knows that being healthy should be your priority. That means covering a number of areas that deal with health.
Getting the proper nutrition, excersising daily, and getting the proper vitamins to boost your immune system.
You always want to do your best to make sure you stay as healthy as possible.
Well, Superior Source Vitamins over 130 vitamins for the entire family, from grandparents to the kids!
Right now, there's an awesome offer. Buy Calming Formula and Get Vitamin D3 FREE at CVC4Health.com.
You always want to give yourself the care your deserve and that's always important.
Superior Source Vitamins.
Superior Source Vitamins
Now, Superior Source Vitamins has a great deal of vitamins to pick and choose from.
All of which are for your supplementation needs.
Staying healthy on the inside should be treated as you would the outside.
If you take care of your body you will feel healthier than ever.
Vitamins can promote a number of things like bone health, positive energy levels, and heart health as well, and much more.

Superior Source Vitamins are MicroLingual® featuring "Under the Tongue Technology," so they work fast!
They are quickly absorbed into the body, dissolving in seconds – NO pills to swallow!
By swallowing supplements, as much as 50% of the potency is lost in the high acid environment of the stomach.
Details include the following:
No binders, fillers, dyes or preservatives
GMO-FREE and Sugar-FREE
90% smaller than regular vitamins
Only 3 clean ingredients
That's right, these vitamins are pure, clean, and simple to take!
Now, Superior Source Vitamins can be found at major online retailers nationwide like iHerb and Vitacost.
Take a moment to check out their Store Locator to find a store near you.
Plus, you can get 20% OFF on ALL Superior Source Vitamins at iHerb.com – July 8 to July 15!
Superior Source Vitamins Giveaway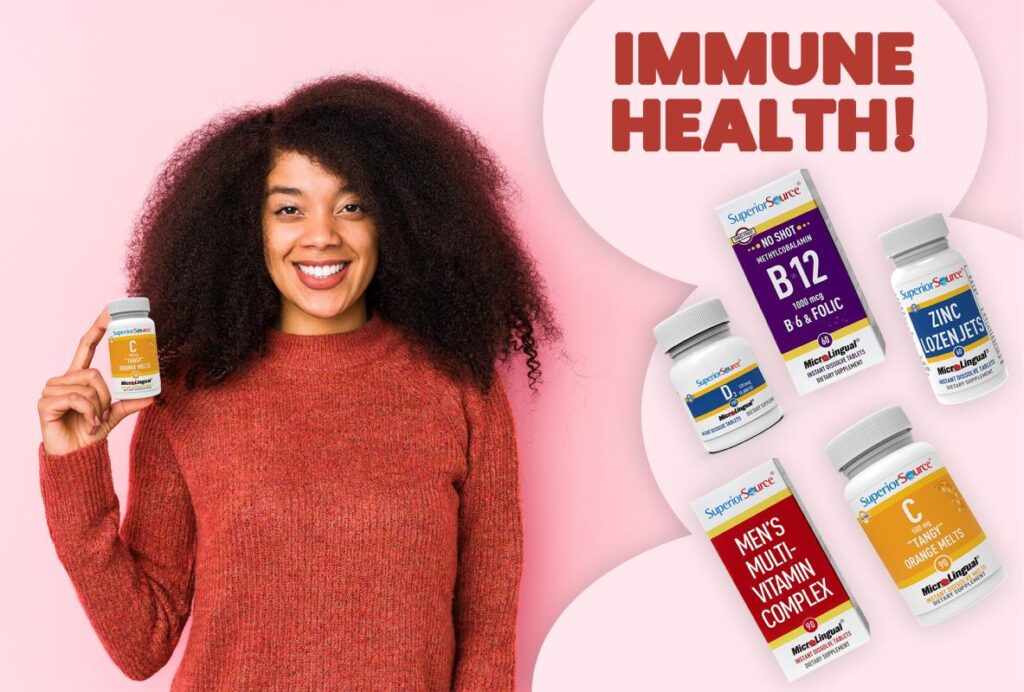 Here are a few facts about the Superior Source vitamins featured in the giveaway:
Zinc Lozenjets + Vitamin C – Zinc is an essential mineral required by more than 300 enzymes for the support of multiple systems and functions in the human body. In addition, studies have indicated that zinc promotes recovery from the common cold and related symptoms. Our Zinc Lozenjets are formulated with vitamin C and elderberry extract as added protection for your health. Current research indicates that elderberry extract stimulates antibody production during acute illness.
Vitamin D – 5,000 IU – Vitamin D works in conjunction with calcium to promote the development and maintenance of strong bones and teeth. Our Vitamin D products are D3, the finest source of Vitamin D available.
Vitamin B-12 / B-6 – 1,000 mcg – No Shot Methylcobalamin Vitamin B-12 / Vitamin B-6 with Folic Acid MicroLingual® Tablets go to work fast, under the tongue. Other forms of Vitamin B-12 supplementation can result in a loss of as much as 50% of Vitamin B-12 potency in the high acid environment of the stomach. The combination of Vitamin B-12, Vitamin B-6 and Folic Acid works synergistically to support healthy heart function and provide essential nutrients for the cardiovascular system.
100% Daily Multi-Vitamin – Our One Daily Value Multi-Vitamin contains 100% of 11 vitamins and nutrients your body needs for optimal health, including B vitamins for energy metabolism as well as Vitamin C and A for antioxidant protection and immune support.
Vitamin C – 500 mg – Vitamin C is an essential nutrient that cannot be produced by the body; therefore, it must be replenished daily. Vitamin C has several beneficial purposes including developing and maintaining healthy skin and bones, to form collagen and enhances the absorption of iron from plant-based foods we eat. Vitamin C also provides support to the body's immune system. "Superior Source" Vitamin C 500 mg, "Tangy Orange Melts" contains very little sodium (only 1% of the Daily Requirement), it is helpful in offsetting the natural acidity of Vitamin C, creating a smoother less acidic taste. NO sugar added; only sweetened with a little stevia. This is preferable to most "chewable" vitamin C products that typically are loaded with lots of sugar.
Giveaway:
Leave a comment below letting us know why you are excited to have a chance to win the SSV Vitamin 5-Pack to review and ONE to giveaway! ($65 Value).
Winner will be picked with Random.org.
This blog is not responsible for shipping of the winner's items, the sponsor is.
Please allow 4-6 weeks to receive the item. Enter below and good luck!
• Zinc Lozenjets with Vitamin C
• Vitamin B-12 & B-6 – 1,000 mcg
• Vitamin C "Tangy" Orange Melts – 500 mg
• 100% Daily Multi-Vitamin
• Vitamin D – 5,000 IU