Mugs are a great gift for anyone. Who doesn't need a mug? Whether you drink tea, coffee, or any liquid, a mug always comes in handy. What makes a mug an even greater gift is when it has cool sayings that make you laugh or that brighten up your day. With Mother's Day coming up, SheMugs is the place to go to find the perfect, personalized mug for your mom (or another special woman in your life). SheMugs will make her feel special and get a giggle out of her.
There Is More To SheMugs Than Just Mugs
SheMugs is a shop on Etsy. Jessie is the owner and she offers really fun and creative SheMugs that have empowerment, sassy, and funny themes. Jessie explains, "SheMugs was created for women to make them feel like they want to: powerful, sassy, relaxed, and loved. Because who doesn't want to feel those things?" So true!
I picked two mugs from her shop. The first one says, "My Blood Type is Coffee." I couldn't help but laugh when I read that. I'm a big coffee drinker and felt this was so apropos.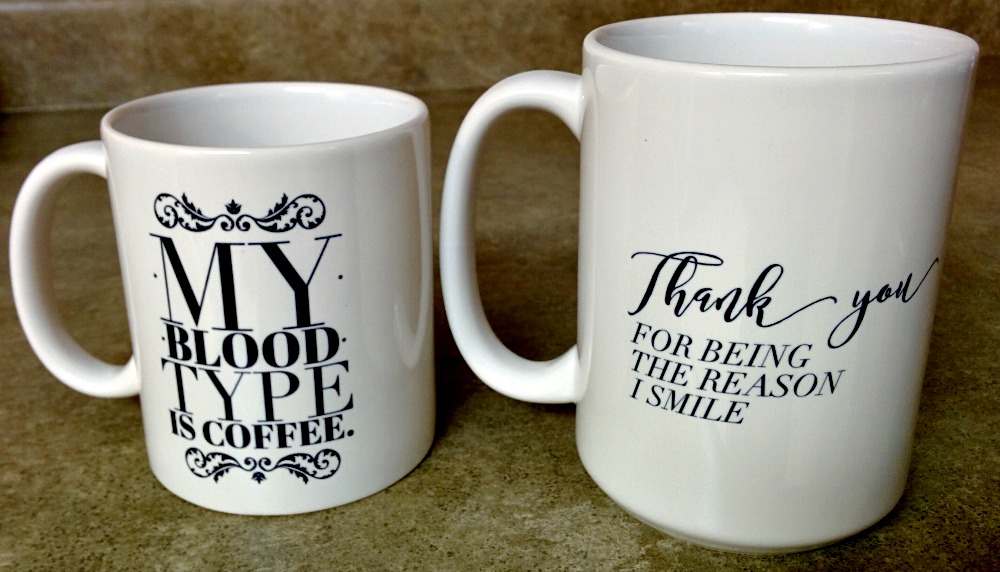 The second mug I received says, "Thank You For Being The Reason I Smile." I got this one to give to a special teacher in my life. And, I think it will make the perfect gift for her because she truly is wonderful.
As you browse through the mugs, you'll see Jessie definitely has a sassy side! She's sassy and funny. She created these mugs to help lighten up the seriousness in people's lives and to help them smile, which, sometimes, can make all the difference in a person's day.
These mugs seriously make a perfect gift! Fill them up with some yummy candy or create a coffee or tea basket and you're all set! Or, just wrap the mug as is and put a bow on it! Or, treat yourself to some special mugs that reflect your personality or that you'd love to have to help you wake up in the morning.
The mugs come in 2 sizes: 11oz for $14.95 and 15oz for $16.95.
And, just because the mugs are SheMugs, doesn't mean they can't be for people other than "shes." Some of the mugs definitely are more geared for women, but not all of them. There are tons to choose from and I'm sure you could find a SheMug for just about anyone! So check them out!
Connect with SheMugs:
Etsy Shop | Website | Facebook | Twitter | Instagram