Father's Day is right around the corner and I want to give my hubby something he wants and needs. I know he would LOVE every single item listed. Music and Art is his passion so he loves to be on his phone, iPad and home computer. However, he is always complaining he doesn't have enough space or wishes he has all his photos in one spot and could go from device to device. Bam…I found the perfect gifts!
Ultra Dual USB Drive – A small USB flash drive featuring both a micro-USB and a USB 3.0 connector, designed for Android smart phone and tablet users who need an easy way to move content such as photos and videos from their mobile devices.
My husband takes a lot of pictures for his love of art and is always complaining about having to take the time to transfer from his phone to the computer and how much time- now this will help him and save him a lot of time.
Dual Connectors for Easy File Transfers
Organize Files with SanDisk Memory Zone App
Available in Capacities up to 64GB
Automatically Detected When Connected- "plug-and-play" device
Buy from local Best Buy or online at SanDisk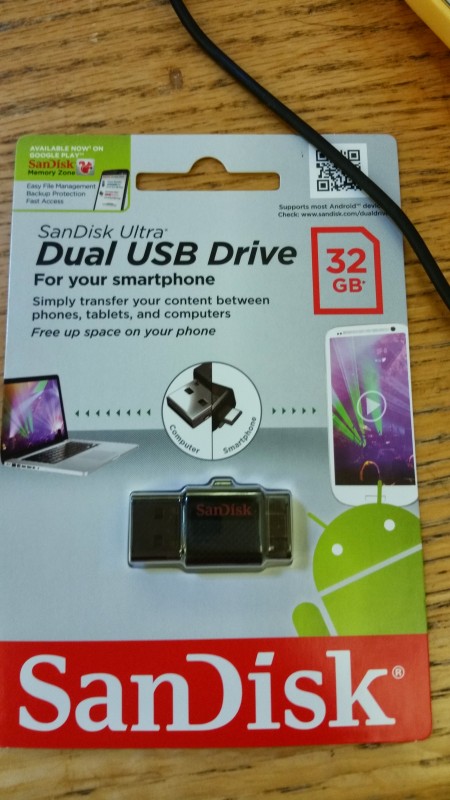 SanDisk iXpand Flash Drive – Integrating a Lightning connector and USB port, the iXpand Flash Drive provides a simple way to offload, access and transfer content on iOS devices. The flash drive lets you free up memory on your iOS devices and instantly expand storage by up to 128GB. I love to take pictures and my phone always told me I had low memory- it always happens when I really need to take a picture. I am able to now to transfer between iPhone, iPad and computers.
Makes it a snap to move pictures and videos between devices.
Automatically Sync Photos and Videos- Set the app to automatically copy photos and videos from your camera roll to the drive when the drive is connected.
Over 3x the Transfer Speed of Other Drives- the fastest way to move files on-the-go from your iPhone or iPad.
Free Up iPhone/iPad Memory
Play Videos and Music Directly From the Drive
Password Protect Your Files- Lock files

**

on your iPhone or iPad using a password and just as easily unlock them on your computer.
Buy from Best Buy, Amazon and SanDisk
Connect Wireless Media Drive – A pocket-sized device designed for convenience and portability, the Connect Wireless Media Drive allows users to wirelessly store, share and stream content across multiple mobile devices and computers simultaneously. Equipped with a SDHC/SDXC memory card slot, the capacity can be increased even further. It's the perfect companion for travelers and parents who need entertainment on the go, providing up to eight hours of continuous HD streaming on a single charge. This is perfect for that road trip we will be taking this summer. The kids can watch movies or their tv shows while we are driving.
Stream HD Movies simultaneously It connects up to eight mobile devices and can stream up to five different HD movies at once. WOW! Best part is no Internet connection is needed, so you can stream content to your mobile device wherever you go.
Stream up to 8 hours of content on a single charge It comes with a USB cable and AC adaptor for recharging
Available in multiple storage capacity options, with SD card slot to add even more

**

SanDisk Wireless Media Drive App
Buy from Best Buy, Amazon, and SanDisk