This post is sponsored by Depend.
I'm a Family Caregiver
Being a caregiver can be rewarding in so many ways, but it also can drain you too, so you need to make sure you take care of yourself. Some of you may already know, but I care for my adult autistic son. His smile every morning keeps me going, and his love is unconditional. However, we have our days though, but I know that I need to keep it together, so I try not to let a bad day get me down.
My sister and her husband live with us, so we have a little tribe to help with around the house or errands. I'm my son's primary caregiver, but everyone has had training plus my lists help everyone do what is needed. My son needs his daily routine to stay the same, so I make sure that I'm top of everything and ask for help when I need it.
Caregivers need care, too
Let me tell you asking for help is so hard to do because I'm his mom and no one can take care of him as I do! My husband helps me out a lot too, he will take my son out for a walk or play with the animals when he sees me getting aggravated or I just need a break.
Here are couple other ways I take care of myself so I can be the best caregiver for my son.
Every morning I get up before everyone and meditate for 15 minutes. Let me tell you this helps me out so much. I'm relaxed and ready for the day when my son gets up. If I miss a day of mediation, I can see a big difference in how my day goes, so this is very important. My husband gets my son up on Sunday's so I can sleep in, and that does my body and mind right too!
I write in a journal every day. It's my outlet to get things off my mind or if I have ideas for activities for my son. I also use it to write down what triggers my son on days he is not cooperating. I do that to see if I see a pattern. Writing my feelings down on paper helps me emotionally and also makes me thinks of ways I can improve.
My husband and I have a camper that we take to one of our favorite campsites. We need a break every once in awhile, and travel is something we love to do together. Like I said my sister and brother -n-law helps me out when I need to get away, and I appreciate that a lot. Now we only go for a couple of days at a time, but it does my mind and body a lot of good.
I create weekly lists to keep me on task. I like to be prepared, and I think what annoys me the most is when we run out of items for my son or the house. Not everyone is a fan of my lists so sometimes things are left off of my NEED TO GET list. However, Sam's Club has my back on items I need for my son, and the Sam's Club Caregiver program is my saving grace.
Benefits of the Sam's Club Caregiver Program:
Discreet shipping
Maintain a sense of peace when ordering sensitive items knowing that once it is delivered, you and only you will know what's inside
Free Shipping on select items from select locations
Club Pick-up
Shop online and looking for items marked "Club Pick-up." You can also use the "Easy Reorder" option and select from a list of your past in-club and online purchases
Get time back in your day as a member of Sam's Club team fills your cart with your items.
Bypass the register and check in on the app, at the kiosk inside or pull up in our Drive Thru area (available in select clubs).
Scan & Go
Download Sam's Club Scan & Go app to gain access to great deals, pay quicker, and beat the checkout lines!
Here's how it works: Barcode scan: Scan each item's barcode in the store with the item scanner.
Payment: Pay fast for wholesale items directly in the app. It's a time saver.
Wholesale savings: Pay fast by showing your digital payment receipt to the exit greeter.
I use the Club- Pick Up a lot and using the app helps so much too. When I'm strapped for time, and I'm not out of the product yet, I will do the direct shipping. When time is not my friend having the Sam's Club Caregiver program I can pick up whatever I need like Depend, Poise, and Ensure products in minutes. I know they have what I need at Sam's and won't run out of our necessities. This is my #1 Caregiver Hack…belonging to Sam's Club.
My son knows this box is for him!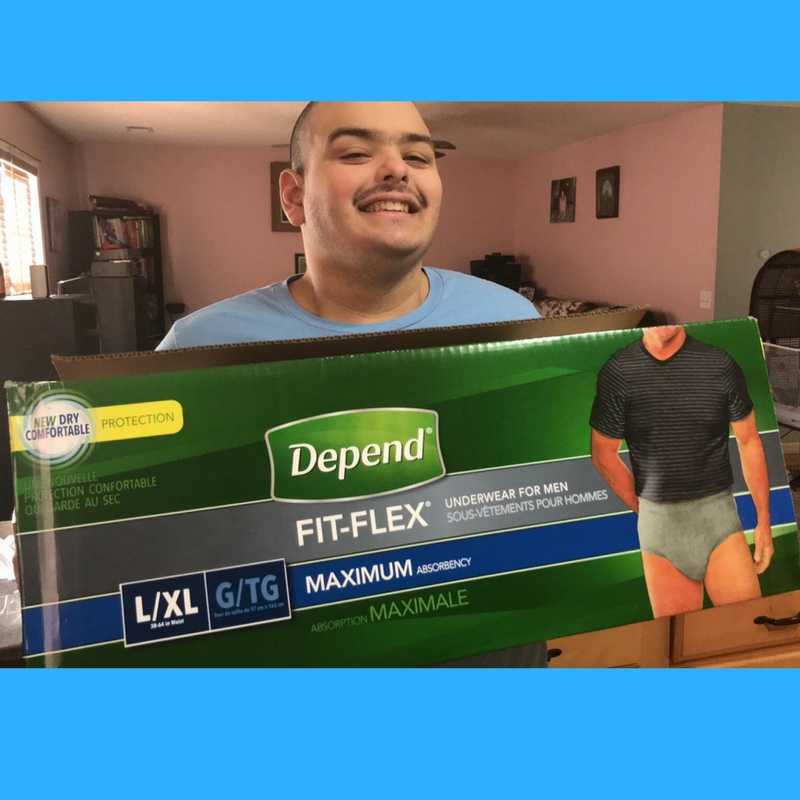 If you are a Caregiver, please look more into the Sam's Club Caregiver program, you won't be disappointed.