My RIP Cupcakes are unique because instead of using fondant or modeling chocolate, I used the ladyfingers to create the décor. It was easy to make and the cookies offered that crunch you don't always find in a cupcake.
I had ladyfinger cookies lying around the other day (As always. Clearly, I love making tiramisu), and I was trying to think hard for something to make for Halloween. I stared at the rounded ends of each cookie and suddenly, it occurred to me: tombstones.
Are you excited for Halloween? What are some of your favorite desserts to make for the spooky holiday?
Ingredients
12 of your favorite vanilla cupcakes
6 ladyfinger cookies
1 cup white candy melts
1 tsp coconut oil
¼ tsp black gel food coloring
2 sticks butter, softened
4 cups confectioner sugar
2 tbsp cocoa
3-5 tbsp milk
Black decorating icing
Yields: one dozen decorated cupcakes
Directions
Allow your cupcakes to cool before decorating. Line a baking sheet with wax paper. Break your ladyfinger cookies in half.
Microwave your candy melt and coconut oil in 30-second intervals until completely melted. Add black gel food coloring and mix.
Completely submerge your ladyfinger cookies in the melted candy. Place gently on your wax paper.
Make your buttercream by beating butter, sugar, cocoa, and milk on slow. Gradually increase speed to high and allow the ingredients to blend thoroughly. Frost each cupcake with a frosting bag.
Once the candy has set on your ladyfingers, draw out "RIP" on each one with your black decorating icing.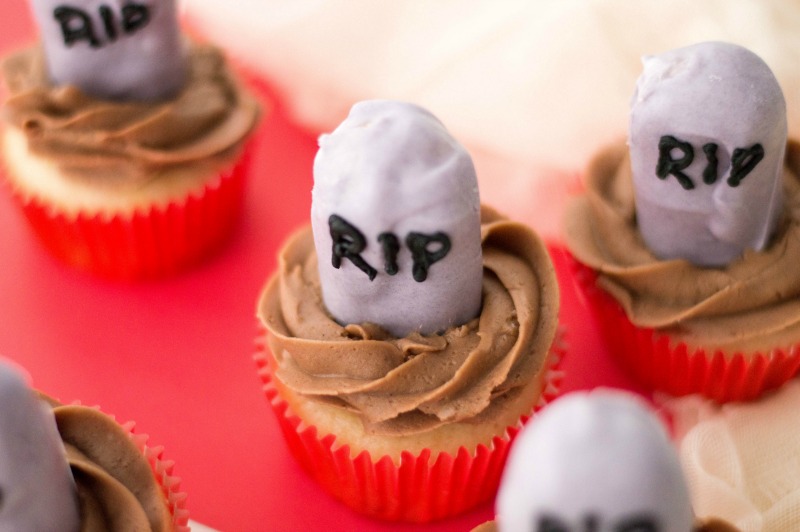 Place the tombstone cookies on each cupcake and Happy Halloween!
RIP Cupcakes
Ingredients
12

of your favorite vanilla cupcakes

6

lady finger cookies

1

cup

white candy melts

1

tsp

coconut oil

¼

tsp

black gel food coloring

2

sticks butter

softened

4

cups

confectioner sugar

2

tbsp

cocoa

3-5

tbsp

milk

Black decorating icing