In two or three months, depending on where you live in the States, your incredible freewheeling summer days will once again be replaced with another school year. Over the year, reusable lunch bags really take a beating. From getting dropped everywhere and soiled to containing the old, smelly remnants of last week's lunch (one too many times).
Reusable lunch bags are also major magnets for bacteria, sometimes containing mold spores, E. Coli and fecal bacteria among other things. They are prime spots for bacteria because they can thrive in dark, damp and closed environments. Foods, like meats, fruit and vegetables also join the party with their own bacteria. With that said, reusable lunch bags should be replaced every new school year. If you're packing healthy lunches in dirty, bacteria ridden lunch bags, then what's the point, right? Head back to school in style with an enviable lunch bags from Funkins.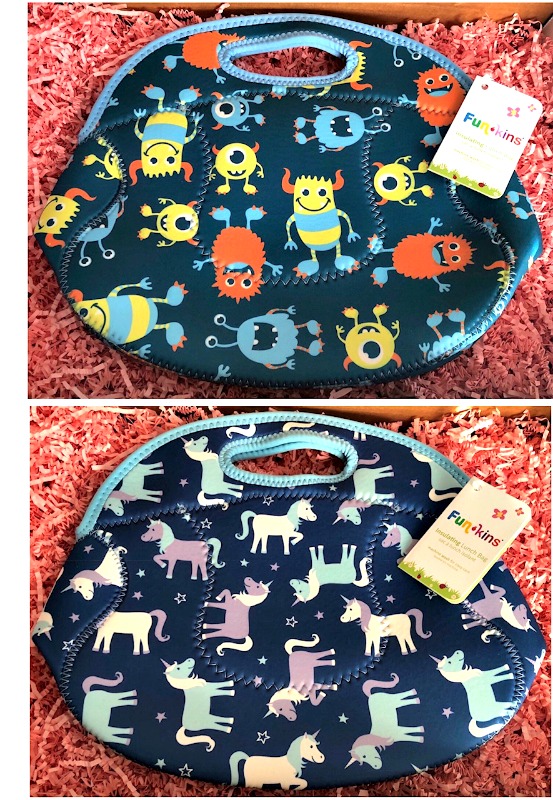 Funkins Lunch Bags are thoughtfully designed with interior patterns, soft handles, durable zippers, reinforced seams, interior labels and a convenient interior pocket. Parents can rest assured each lunch bag is free from any harmful chemicals as these bags are lead, phthalate, PVC and BPA free. Easy for kids to unpack and repack for camp, picnics or school. Funkins Lunch Bags keep food fresh and ready to go for busy days.
Funkins also offer Reusable Napkins and Placemats. Their cloth napkins and placemats are bright, reusable, eco-friendly and made especially for kids. They are waste-free and sized perfectly for lunch boxes, snack time, picnics in the parks or on the road. Fashionable Funkins are 100% cotton, super soft, durable and washable napkins and placemats that fit perfectly into little laps or tables. Protect kids from unknown germs on dirty tables, all while reducing waste. Available in both single ply napkins, 12×12 in size and double-ply placemats, 15×13 in size.
About Funkins
Founded in 2011, the family-owned business is committed to helping schools and families across the world make school lunch time waste-free. At Funkins, they believe it is their responsibility to instill environmental values in our children which starts in their lunchbox.
CONNECT WITH FUNKINS: Site | Facebook | Instagram | Twitter | Pinterest