Repairing damaged hair can be heartbreaking, time consuming, and expensive. I have had my share of hair woes, so I know that it is not easy to go through the repair phase. Below are three steps that I have taken to repair my damaged hair.
Repair Intensive Restructuring Treatment
One way that you can repair damaged hair is by using a hair treatment. I really like the Repair Intensive Restructuring Treatment from Clean Enhanced Organics. This restructuring treatment addresses hair damaged by environmental stress, heat styling or chemical treatments. Its purpose is to repair hair. As well as restructure strands in order to provide a healthy, fully bodied look. It is designed to be used as a treatment product with other Clean Enhanced Organics shampoos and conditioners and in conjunction with Repair Style Spray and Repair Hair Oil Treatment. Formulated with organic Aloe, Chamomile, Lavender and Lemon Balm extracts, this restructuring treatment fulfills its promise of healthier hair without the use of harsh chemicals. Clean Enhanced Organics prides itself on providing the highest possible level of product performance without sacrificing the importance of natural ingredients.
The Repair Intensive Restructuring Treatment makes my hair soft. I see less hair in the shower when using this product.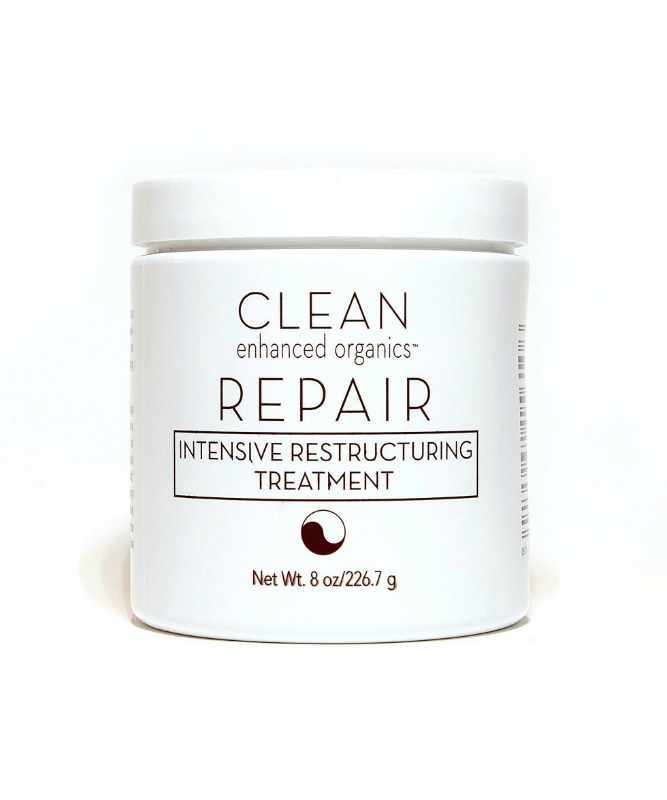 Trim or Get A Major Cut
Sometimes a good haircut or a good trim can help with damaged hair. No one likes cutting off almost all of their hair. Sometimes it is necessary to get rid of the dead ends and split ends that travel up the hair shaft. The good news is that this will help give you a fresh start with your hair. All you have to do is maintain a schedule of making sure you get your ends trimmed routinely, use the right products, try to cut back on heat (if you use it), and be gentle with your hair.
Change Products
There are so many products that have claims to make your hair stronger, make your hair longer, and softer. Since we all have different hair types, it is important to know which product works best for your hair type. If a product is not doing what it claims, then maybe switch to a different product. Look at the ingredients and begin to learn which ingredients benefit your hair.
What steps do you take to repair damaged hair?
Connect with Clean Enhanced Organics: Site