"I have just got a new iPhone XS Max and I want to add some interesting ringtones to it. Can someone teach me how to put ringtones on iPhone XS without any unwanted hassle?"
If you are new to the iOS ecosystem, then you might be having a similar doubt. Unlike Androids, it can be a troublesome task to transfer your data from computer to iOS or vice-versa. In order to transfer ringtones or create custom ringtones, you need to use dedicated tools. In this post, we will teach you how to add music from iTunes to iPhone, computer to iPhone, and more. Let's get it started!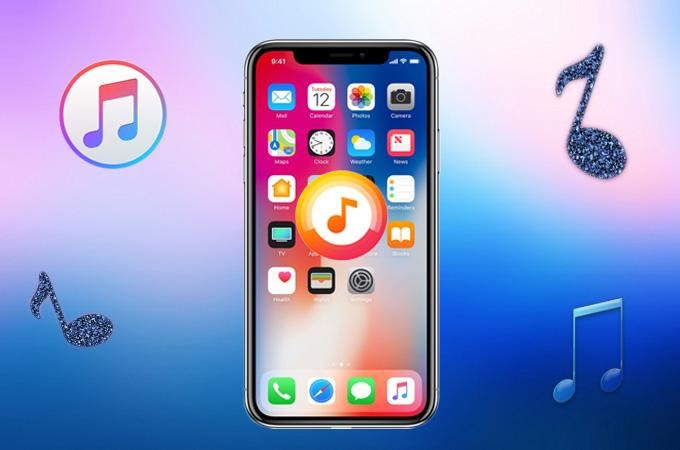 How to Put Ringtones on iPhone XS/XR/X Directly?
If you already have ringtones saved on your system, then you can follow this approach. Before you proceed, just make sure that the saved ringtones are of the correct format (m4r via AAC encoding). By taking the assistance of dr.fone – Transfer (iOS), you can directly move your data between iPhone and computer. It is available for Mac and Windows versions and is compatible with every leading iOS device like iPhone XS Max, XS, XR, X, etc.
Since it is a complete iPhone manager, there are so many things that you can do with it. For instance, you can move music, photos, videos, contacts, etc. between iPhone and computer. To learn how to put ringtones on iPhone XS/XR/X directly from your system, follow these steps:
Launch the dr.fone toolkit on your Mac or Windows and pick the "Transfer" option from its welcome screen. Also, using a lightning cable, connect your iPhone to the system.
Your device would automatically be detected by the application. Skip the shortcuts listed on its home and visit the "Music" tab instead.
Here, you can view a list of all the audio files saved on your phone. You can view different categories (like music, ringtones, podcasts, etc.) on the left panel.
To add a ringtone, click on the import icon on its toolbar. Choose to either add a file or an entire folder.
A browser window will be launched so that you can locate and load the ringtones of your choice.
In no time, the selected ringtones will be loaded to your iOS device.
How to Create and Transfer Custom Ringtones on iPhone X/XS/XR
A lot of times, users don't have a readily available ringtone in a compatible format. In this case, you can create your own ringtones and save them to your iOS device. With dr.fone – Transfer (iOS), you can easily do the same in seconds. It has a dedicated feature of Ringtone Maker that provides a user-friendly solution to create custom ringtones. Later, you can directly save the ringtone to your iPhone. It will automatically do the needed conversion so that you don't have to worry a bit. Here's how you can do it.
Launch dr.fone – Transfer (iOS) on your system and connect your iPhone to it. Wait for a while as your phone would be detected by the application.
Go to the Music tab where all the existing audio files on your device will be displayed. Now, click on the Ringtone Make icon on its toolbar.
This will launch a dedicated interface of Ringtone Maker. To start with, you can load music from your connected iPhone or the local system.
Once the music file is loaded, you can clip it by setting its starting and ending position. You can use the scroll or set an exact duration as well. To listen to the selection, click on the Ringtone Audition button.
Furthermore, you can incorporate effects like fade in and fade out as well. Just be sure that the ringtone is of 40 seconds or less.
In the end, you can save the edited ringtone to your iPhone (or your system).
The ringtone will automatically be converted to a supporting format. You can find it in the list of available ringtones afterward. In this way, you can learn how to transfer custom ringtones to iPhone directly.
How to Add Music from iTunes to iPhone?
For all those readers who don't want to use any third-party tool to add ringtones to their iPhone, this would be a recommended solution. If you want, you can use iTunes to transfer ringtones to your device as well. Though, it is a more complicated solution and might consume a lot of time. If you are ready for it, then follow these steps to learn how to add music from iTunes to iPhone. Just make sure that your iTunes is updated to a latest stable version beforehand.
To start with, launch iTunes on your system and connect your iPhone to it. If you don't have music available in iTunes, then go to its menu and manually add files to iTunes library.
Now, go to its music tab, and select the file of your choice. Right-click it and select the "Get Info" option.
As a new pop-up window would open, go to its "Options". Here, you can specify a starting and ending time for the track and clip the ringtone (of maximum 40 seconds).
Once it is done, you need to remove the duplicate version of the same song from your iTunes library to avoid redundancy.
Change its format to ".m4r" and add the file to your library.
Select the connected iPhone and go to its Music tab. From here, you can sync iTunes music so that the newly created ringtone will be available on your iPhone.
There you go! Now when you know how to add music from iTunes to iPhone or by using any other third-party tool, you can certainly meet your requirements. As you can see, using iTunes to add custom ringtones is extremely complicated. To have a hassle-free experience, you can simply give dr.fone – Transfer (iOS) a try. A highly advanced iPhone manager, it will come handy to you on numerous occasions. Go ahead and give it a try and teach others how to put ringtones on iPhone like a pro as well.