"Spring is FINALLY in the air which means the Easter Bunny is on its way! Create a beautiful Easter basket this year that's more than just candy with a personalized book from the Easter Bunny himself!"
I make Easter Baskets for my entire family. Two grown children, their other halves, two grown stepchildren, four grandchildren, husband and parents. So I am always looking for something unique and different to add to their baskets. And yes, these amazing books work even for the adult children. Because honestly, who doesn't like seeing their name in print? While Put Me In The Story also offers books that celebrate other holidays and special occasions. Easter, Birthday, To Say "I Love You", New Baby, Wedding, Best Bedtime Stories and Mother's Day. So you can find something for everyone in the family. And for every occasion.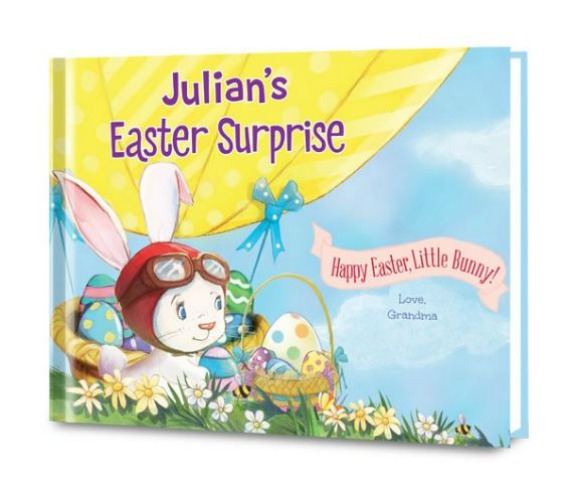 Egg hunts are fun and full of surprises. While Easter Surprise will let your child plan their Easter mission. Because they will soar up high and higher! As high as the moon in their hot air balloon. Instead of Santa in his sleigh delivering presents. They are soaring around and delivering Easter eggs all around town. And hiding some pretty tasty treats down the streets. Oh did I mention that it ends with a surprise twist? What is the twist you may ask. Well, I can't tell you that. You will have to read the book for yourself.
What makes this book so special for my grandkids is I have always called them my little honey bunnies. So I love you honey bunny is PERFECT for their Easter baskets. And you can make this book even more special because you can add their picture in the book. While you have the option to change it from I love you to WE love you. Each book has a personalized message on the dedication page.
Put Me In The Story will make this Easter the best one yet. With books that feature your child's name and hometown. And a special message and picture on the dedication page. A special memory that will be treasured for years.