Depending on where you live in the United States, snow falls in the winter. (For us in Northeastern Pennsylvania, we tend to get dumped on just before spring.) If you have little ones, you need to protect their eyes even in the winter!
Protect Your Little Ones from Snow Blindness
You may not realize it but snow can harm your eyes as much as looking directly at the sun. On a sunny day, when the ground is covered, the sunlight reflects off the snow and can damage your eyes. (As a matter of fact, it reflects up to eighty percent of the sun's rays.) Ever walk outside on a snowy and sunny winter day? I have, and it hurts if you don't have sunglasses on. However, not just any sunglasses will do.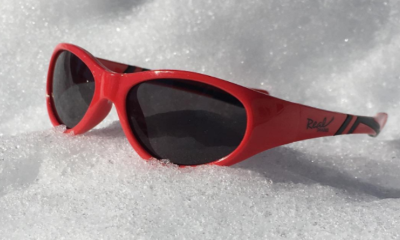 Real Shades for Your Real Kids
If you want to protect your kids' eyes, then they need Real Shades. These shades are mini versions of what we wear, designed for little ones. They offer one hundred percent protection from the sun's UVA/UVB rays. Real Shades makes sunglasses for babies up to adults. You can save your whole family's eyes with Real Shades.
Liam Loves Real Shades
Liam has a couple of pairs of Real Shades. He looks so handsome in them. I love that they protect his peepers, he loves that look like daddy's sunglasses. He has a pair of their Surf shades. These one are great because they're completely bendable. Which means they hold up to my rough and tumble kid. He also has their Blaze P2 sunglasses. These are his favorite because they look like dad's.
We All Wear Real Shades
Wearing Real Shades is a family affair. My husband has the adult Blaze P2 Adult Sunglasses. (Like I said, Liam's match daddy's.) Except Daddy's are in Lime and Black. I have their Adult Revo Lens Aviators in silver and blue, and I absolutely love them. Unlike most aviators these aren't huge on my face. (I hate huge sunglasses!)
To get Real Shades for your loved ones, head to their website. Follow via Facebook, Twitter, and Instagram too.