For many, school is back in session. Do you know what that means? It means the cold season is soon approaching. In fact, a few people in my household have already caught a cold and it's not even September! So, you may want to stock up on Sambucol Black Elderberry Gummies and Syrup.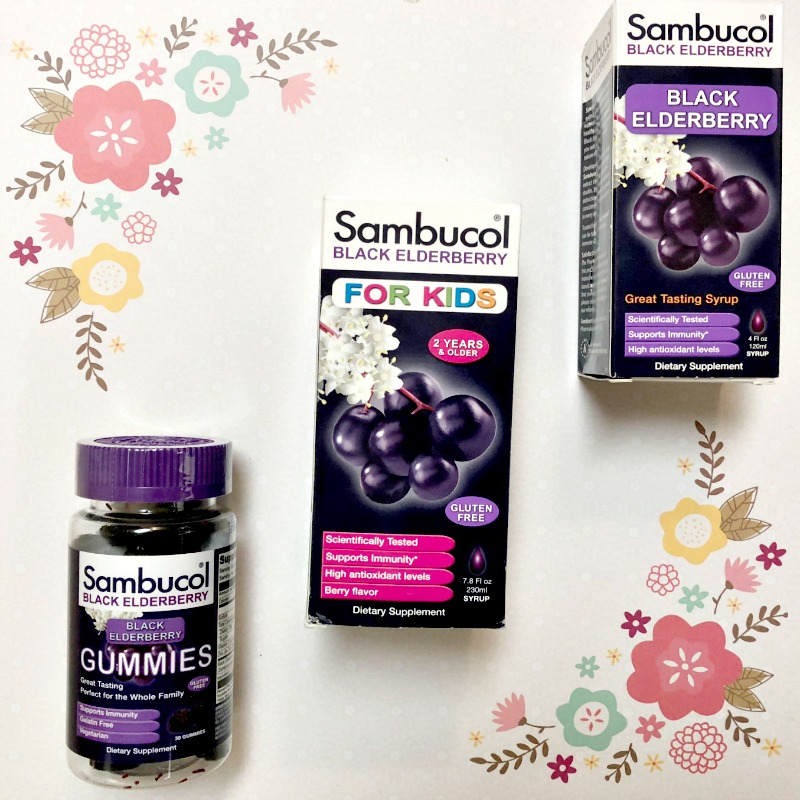 What is Sambucol Black Elderberry? According to the products' website, "Sambucol is a unique black elderberry extract rich in immune supporting flavonoids. Sambucol is made from black elderberries which have twice the natural antioxidant capacity of blueberries and more than 50% the overall antioxidant capability of cranberries. Antioxidants support the immune system by helping neutralize the harmful effect of free radicals. Sambucol is produced from whole black elderberries and has the equivalent of up to 1000 black elderberries in every 120ml bottle. It has been developed by scientists and is recommended by experts." That's a ton of information but it gives you an idea of how the following products can be of benefit!
Various Sambucol Products To Choose From
Sambucol Black Elderberry comes in several forms. I had the opportunity to try it in the forms of their Gummies, Syrup For Kids, and the Original Syrup. They are free of gluten, dairy, soy, wheat, nuts, and artificial color and flavors. I liked the texture and taste of all of them.
Black Elderberry Gummies come in a bottle with 30 gummies, which retails on the website for $12.99. The gummies are free of preservatives.
Black Elderberry Syrup For Kids is for kids 2 years and older (the product is not suitable for children under 2 years of age). The product comes with the directions for dosages for different ages and for daily usage or intensive usage. On the product's website, the 7.8 oz bottle retails for $24.99 and the 4 oz. bottle is $12.99.
Sambucol Black Elderberry Syrup comes in a 4 oz. bottle, which retails for $12.99 on the company's website.
According to the company, black elderberry has been in use for over 4,000 years. By some, it also has the title of "nature's medicine chest." I find that quite fascinating and amazing.
Where Can You Buy Sambucol?
As mentioned above, these products are available on the products' website. You can also buy them in stores. To find a store near you, use the company's store locator.
I love it when more natural products can aid in health and I am going to start using these products to help protect us for when I or my family get sick. I highly recommend you read the reviews on the company's website. People are raving about these products. And, pick up your Sambucol products today to help you prepare for the upcoming cold season.
I am not a medical expert. The information in this post is not meant to substitute for professional medical advice, diagnosis, or treatment. The information in this post is for general informational purposes only.
Connect with Sambucol: Website | Facebook | Twitter | Instagram