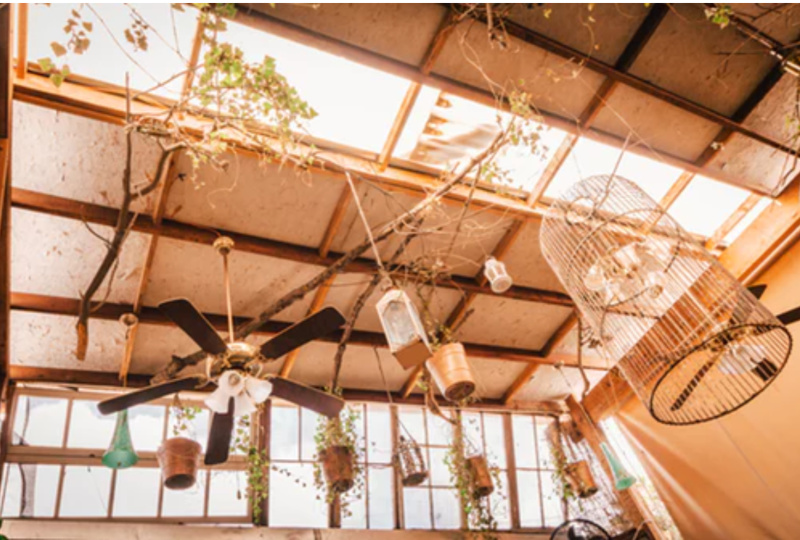 The front porch is the place to be during the summer months. Watching the birds in flight and visiting with friends is a favorite way to relax and unwind. Don't let hot and humid air be a problem this year as the temperatures rise to uncomfortable levels. Keep a natural breeze flowing and enjoy the great outdoors. When outdoor ceiling fans are mounted correctly, the circulation of air is felt immediately.
Difference between indoor and outdoor ceiling fans
Not all fans are created equal. According to Jeff Eller from Modern Fan Outlet says that outdoor ceiling fans should be wet rated so that they can be used in any weather. The Underwriters Laboratories set a rating on electrical lighting, as tested under different environments. Wet rated conditions refer to areas where any type of water can access the bulbs or electrical workings of a fan. They are specially formulated with waterproof parts and seals to protect the working parts. Wet rated ceiling fans can tolerate dripping water from snow and contact with rain. Damp rated ceiling fans, on the other hand, are made for damp conditions. Basements, bathrooms, kitchens or enclosed porches can utilize damp rated ceiling fans quite well. It is never recommended to use a dryer or damp UL rated ceiling fan for outdoor use. This can damage wiring, cause a short or shorten the life of your fan.
The efficiency of outdoor ceiling fans
Technology has improved many ceiling fans in their ability to distribute and cool the surrounding air. This is done by redesigning the motor, realigning or adding more blades. Changing the performance level of the overall design can improve the comfort level by as much as 10 degrees. This does not mean that there is a change in temperature. However, by improving the flow of air, a significance can be felt. The amount of energy of light bulbs and motors has also been improved to help save on utility costs.
Noise and wobbles have also been improved. Newer models of fans do not have the grinding, mechanical sounds that were once heard by older ceiling fans. While they do still have a sound, it is that of the wind whooshing as with a breeze. There are also balancing kits included with new fans to keep blades better balanced for better comfort. This also saves on the workings of the motor by having less strain.
Designs for outdoor living
The designs of outdoor ceiling fans have evolved to bring indoor style to outdoor areas. Some people picture lazy tropical paddle fans as an option for porch fans. These are still available if a seaside presence is what you are looking for. The materials have improved, however, with specially treated blades to give you years of use. Powerful motors offer maximum airflow and a variety of sizes and colors are offered.
Outdoor living with contemporary or modern flair has become popular in recent years. There are many different designs of outdoor ceiling fans to match this type of decor. Sleek, bright white blades work well against a light colored ceiling. Wood-grained blades present a natural look to surrounding elements of nature. Industrial styles benefit from models that are made from metal blades. The industrial look focuses on metal, pipes, and elements of the outdoors.
Lighting
Lights are a great addition to outdoor ceiling fans with many options. Diffusers, glass clusters, and new uplighting allow you to control the mood of lighting in your outdoor area. Uplighting points toward the ceiling and can make a mellow atmosphere in the evening. They work well when can lighting is used as the main source of light. Dimmers and wall switches can also be installed.
Placement of ceiling fans
A long front porch may require more than one ceiling fan for best results. One fan every 16 feet is the recommended placement. Be sure to measure the depth of the ceiling to buy fans that are proportionate to the space available. For example, if your front porch is long and narrow, ceiling fans more than 48 inches should be avoided. However, if your depth is over 10 feet, a larger blade radius can be used. Always install in the middle of the ceiling and allow for 7 feet clearance.
Creating the right atmosphere on your front porch, gazebo or covered patio can make outdoor living more enjoyable. Remove the stuffiness of high humidity by adding a little breeze. With the new technology of today, you can find practically any design of fan to match your outdoor sitting area. If you are currently using box floor fans, consider updating to a new ceiling fan and feel the difference.