The spring season is a season filled with beautiful weather and great events with families and friends. This happens to be the perfect time for people to get together. There are several things you can do in this type of upcoming weather. Everyone has a different outlook when it comes to spring activities, but some are common. So ask yourself, "what are you looking forward too?"
Have you ever considered planning out a camping trip with family and friends? This is a particular activity that a lot of people like to do. The only thing about it is that you have to be prepared at all time. So you are going to need a product that can benefit you. I happen to know of a product perfect for any camping trip. So go ahead and check out the information I have for you below.
Rid Of Mosquitos The Right Way
Now when it comes to being outdoors, there is one pesky thing you have to worry about, and that's mosquitos. That's why you need a Backpacker Mosquito Repeller.
The Backpacker Mosquito Repeller weighs about 4 ounces combined with a minimalist design making it the perfect camping accessory. Its purpose is to keep your campsite mosquito and bug-free! It's simple to use, and it uses fuel from any proprietary isobutene cam canister. It heats a mat within that is treated with Allethrin, the synthetic compound found in the Chrysanthemum flower. Allethrin is vaporized into the air giving users a 15-foot x 15-foot odor-free zone of protection from mosquitoes and other pesky biting bugs. Here are some other key details you'll want to know about the Backpacker Mosquito Repeller: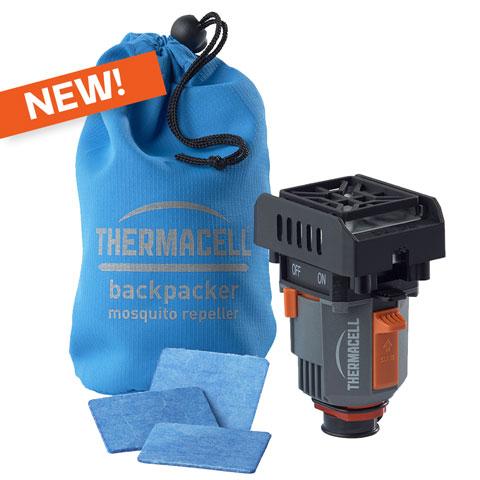 Lightweight, minimalist design: 114g/4.0 oz
Compact and portable: 97mm H x 50mm W x 67mm L
Fuel Efficient – up to 90 hours of run-time from even the smallest 4 oz gas canister
Fuel System – Works only with camping gas canisters: pressurized (iso)butane and propane fuel mix
Integrated Piezo starter
Gentle heat activates the repelling ingredient
Water-resistant nylon carry pouch included
Won't harm gear
It's time for you to plan the perfect camping trip for you, family, and even friends. With the help of this accessory things will be 10x better than you can even imagine. So with that being said, go ahead and check out all the information I have for you above.
Connect with Thermacell: Site | Facebook | Instagram