Pain And Tension – Use The Neck Hammock
The idea of a Neck Hammock conjures up strange images, or at least it did for me. I had never thought of laying my neck in a hammock before seeing this. Well, no matter what you think about it, you really need to try it! If you have neck pain, tension headaches, trouble sleeping (don't we all), and poor posture, then listen up!
The nice people at Neck Hammock sent me this cool traction device. It also comes with a sleep mask so you can relax and shut the world out. You have to lay on the floor, so I thought it was smart that they sent a sign to hang on the door so nobody will open it and smack you in the head! I put the mask on, hung my sign and put my headphones in. My neck and body felt so relaxed that I didn't want to get up. I haven't used it very long, but I can imagine if I do it will continue to help me with my neck pain and stiffness.
It is so easy to use. You simply connect it to any doorknob, and in less than 10 minutes you feel great! Is there anything that helps so many problems in so little time? I can't think of anything.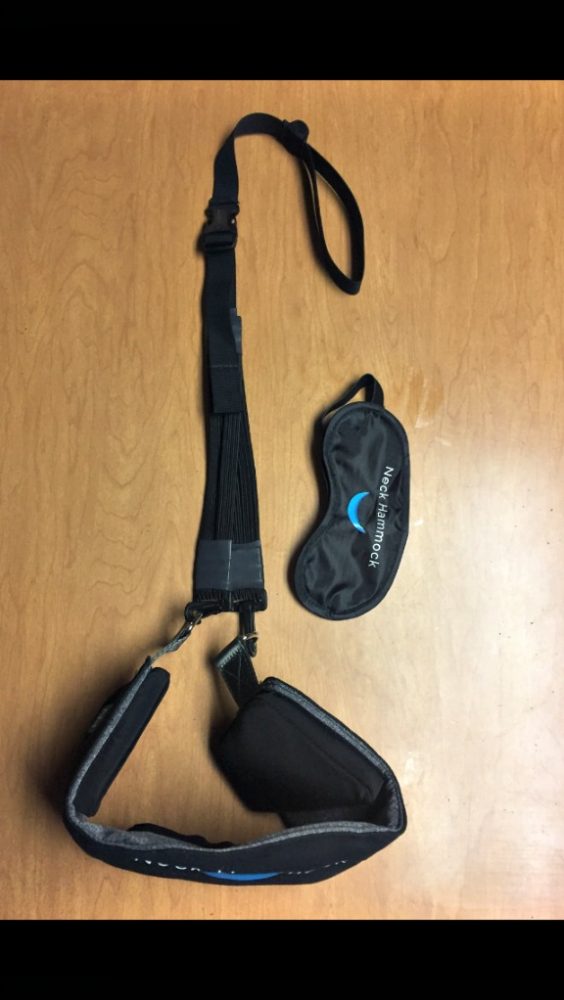 Benefits Of Using A Neck Hammock
So why should you use this great device? It helps eliminate pain, and who can't use that? Pain makes you grumpy and doesn't let you focus on important things. It alleviates stress. I don't know one person that doesn't have some type of stress in their lives. This one benefit alone would be fine, but there are so many more. It boosts your energy in a healthy way. You don't have to drink those gross, unhealthy energy drinks anymore. Are you ready for this one? It improves your sleep quality. That one blows my mind! Anything I can do to sleep better, sign me up. Could there be anything else? As a matter of fact, there is. It improves your posture and promotes proper alignment.
So instead of paying expensive visits to a physical therapist office, just use the Neck Hammock in the comfort of your own home. Speaking of a physical therapist, this device is actually developed by one. So it is safe to use, and it helps immensely!
The Neck Hammock gently pulls the head away from the neck so the muscles relax and stretch. It increases circulation which decreases pain and improves mobility.
Great Gift Idea
If you have a loved one that is hard to buy for, this could make an interesting Valentine gift! It comes in a nice black bag with everything you need to relax. Your sweetie will be happy you bought such a thoughtful "goodie". Oh, and it has no calories!
If you would like to get your very own Neck Hammock, click the link below.
Connect with Neck Hammock/ Facebook/ Twitter/ Instagram/