Learning doesn't have to be boring. In fact, learning can be quite fun with the Home Learning Company. The Home Learning Company was started by a stay-at-home mom. In her words, "I was a stay-at-home mom looking for unique and fun ways to teach my toddler son his early learning basics. Rooted in the belief learning CAN and SHOULD be fun, I started creating educational games for 'mom school,' as my son coined it, that would highlight the fun in learning!"
The Home Learning Company has products to help your children learn counting, colors, matching, patterns, shapes, and much more. I have some of their products to share with you.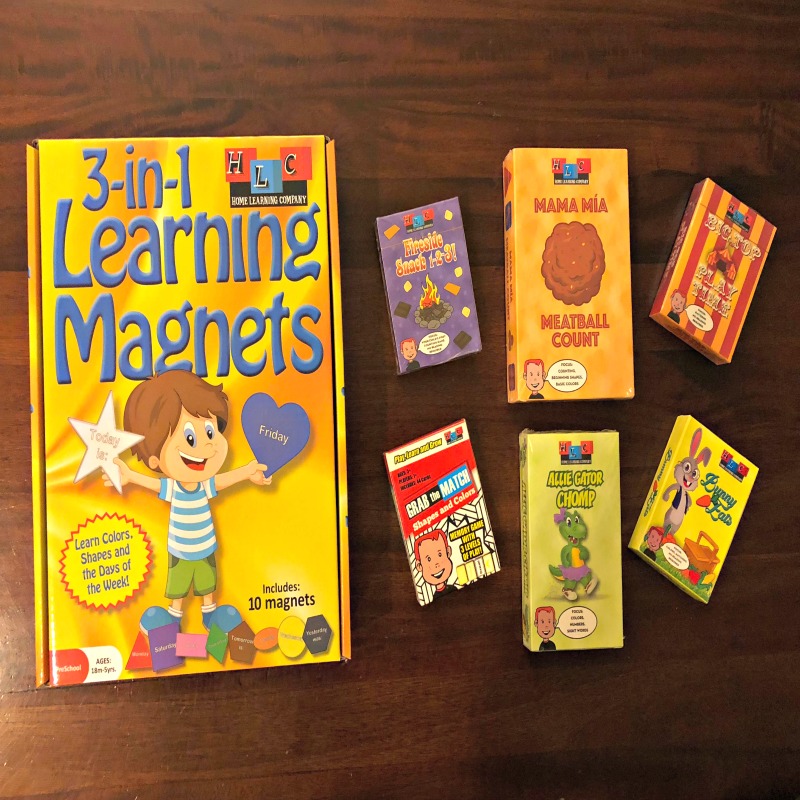 The first is their 3-in-1 Learning Magnets. This is a very cool product. Learning the days of the week can be quite challenging, despite the famous songs you'll find on the web. The 3-in-1 Learning Magnets makes it fun and interactive. In fact, it helps teach children the days of the week, colors, and shapes. And, they're magnets, so kids can have fun playing with them on the fridge (or other surface that works with magnets). I love how it also has a "Yesterday was," a "Today is," and "Tomorrow is" to help children learn yesterday, today, and tomorrow concepts. With this product, children will probably be learning and not even realize it. This product is for children from 18 months to 5 years of age. (Caution: there are magnets on the opposite side of the pieces so be careful.)
Mama Mia – Meatball Count is the next product I'd like to share. It's a fast-paced card game for children of the ages of 3+ years. It's a matching game that helps teach counting, fine motor skills, and some basic math. This is a fun game! In fact, it can be fun for all ages (even adults). I can see this game causing many to giggle!
Allie Gator Chomp is a fun game that involves all players trying to chomp and earn pies for themselves. The winner is the one with the most pies. This game helps teach colors, numerals, and sight word recognition and it also teaches matching. It's for 2-4 players of the ages 3+ years. What's extra cool about this game is that the cards can also serve as flashcards (actually this is a cool feature for most of the games in this post).
Bunny Eats is a great option for the younger ones. This game does not require reading and is meant for kids from the age of 2+ years. The game is for 2 to 4 players. The goal is to help Benji Bunny collect food to eat for lunch. It's a fun, easy game that helps with colors and matching. It also helps hone cognitive, fine motor, and visual motor skills.
Big Top Playtime is about completing patterns. The first player to complete enough patterns to win 3 tickets is the winner! This is an easy, but fun, game for kids 3+ years. Two to four players can play. I love how this game makes learning patterns easy because patterns can be difficult for some to master. I also love the circus theme! This game also helps with matching, cognitive and motor skills.
Grab The Match is a variation of the traditional memory game so many of us know. This one helps with matching colors, shapes, and sight words. This is one of my favorite games. It's easy but fun for almost all ages. This game is meant for 3+ years and above.
The last game I have to present is Fireside Snack 1-2-3! For this game the players aim to be the first camper to create a snack with 3 toppings and a graham cracker. But, sometimes, Reggie the Raccoon can sneak in and snatch some for himself. This game is for kids 2+ years and 2-4 players can play.
All of these games have wonderful educational value. Check out the company's website, which is where you can purchase all of these products and more. Each product's description clearly indicates what it teaches. There is also a ton of other ideas of how a game can be utilized to provide additional educational information.
All of these games would make really affordable, fun, and educational stocking stuffers (although the 3-in-1 Learning Magnets won't fit in the stocking)! The Learning Magnets retail for $13.99 and the other games are each under $9. Kids will have a lot of fun with these various products and they'll learn at the same time. What I love is that they all take the struggle out of learning, which is how I wish all learning was! Thank you, Home Learning Company.
Connect with the Home Learning Company:
Website | Facebook | Instagram