Parfums M.Micallef was founded in Grasse in 1996. And they are now a signature in the world of high-end luxury perfumes. Geoffrey Nejman and Martine Micallef are the love and passion behind the perfume. While their artistic sensibility help them to decide to design unique fragrances. Made of rare and noble materials. And preserved in hand decorated bottles. And you can have those personalized when you order their perfume.
When Martine Micallef became a grandmother. She knew she had to create something special and unique for them. While these fragrances are dedicated to your toddler. The new Parfums M.Micallef's collection is named Baby's Collection.
Martine knew that in a child's imaginary world they would need a rabbit to keep them company. While sharing all of their adventures with them. So with each purchase you receive an adorable rabbit named Harry to keep your little one company. While she fixes her hair, puts her perfume on and gets ready. Harry will sit patiently and wait, like a good rabbit should.
2017 brings the launch of singles set of scented water that are alcohol free. Along with Harry you can personalize each bottle. The perfect gift for a new little girl on her birth. Or you can give them for birthdays, Easter, Christmas or any other holiday. Make the little lady in your life feel special by having her very own set of perfume.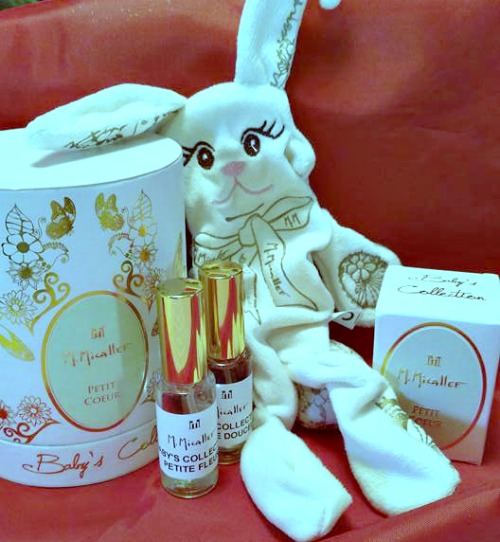 Such a sweet fragrance with gourmet and cuddly notes of cherry and candy apple. How sweet-smelling is that?
A fresh and pure fragrance. Smelling like lemon, mint and bergamot notes. Just what any southern lady needs in her life.
Tender and silky with the irresistible notes of orange blossoms.