More and more people are switching over to using Essential Oils. Whether you've made that leap, or are thinking about it, I have the perfect book for you!
Essential Oils are Natural
Before modern medicine was invented, what did people use? What about when they needed to clean something? Well, they used the items that could be found in their home and found in nature. Many oils are naturally antibacterial, antifungal, antispasmodic, and so, so much more. There's a lot to learn and it's a lot to take in and remember when you're first starting out. That's where Dr. Mariza Snyder's book comes in.
Smart Mom's Guide to Essential Oils
As I said, if you're looking to start out with essential oils, this book is perfect! I suggest reading the entire book, because it will help familiarize you with all of the different oils. Once you get used to using them, you'll know which ones to mix together, just out of habit and knowing what each one is used for.
If you're impatient, and just want to look up something specific, then head into the Index where Dr. Snyder has them broken down into categories. For example, if you're looking to treat an upset stomach, maybe some cramps, or a headache, you can easily find what you need in the index. She also includes a nice list of essential oils in the Appendix, and what each one can be used for. Each oil has certain things it helps, and they all have multiple uses.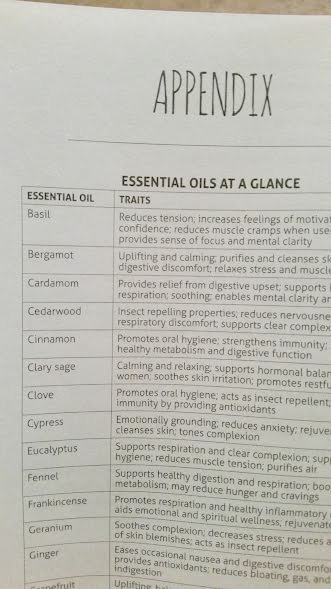 Cleaning
This book doesn't just cover making natural medicinal rubs and blends, it also covers cleaning solutions, and even laundry detergents that you can make at home, naturally. I can attest to how these work, because a few months back, I completely switched to all natural, homemade cleaning products. I promise you they work just as well as the toxic ones you buy in the store. Once you get all the oils and stuff, it's actually cheaper to make them yourself as well. I cleaned my oven with my homemade kitchen spray and it looked like new. I kid you not!
Skin and Hair Care too!
How about making your very own, all natural foaming facial cleanser, or shampoo? With this book and a few ingredients, you can do just that and so much more! I've been making foaming facial cleanser for myself, and a milder version for my tween son, and we love it! After a long day, nothing beats soaking in the tub with a homemade Epsom salt and essential oil soak for sore muscles.
Where to buy
I know you're ready to try Essential Oils, so click HERE and head to Ulysses Press (here they are on Twitter, Instagram, and Pinterest,) to snag a copy of Dr. Snyder's book. You can get it on Amazon, Google Play, and at Barnes & Noble. Dr. Mariza Snyder's website is HERE and you can follow her on Facebook, too.