LOFTEK Makes Gorgeous Globe Lamps and so Much More
Whether you need a night light or you just want some mood lighting, LOFTEK has the products you need! This big, beautiful, round globe (duh, what other shapes would a globe be?) lights up beautifully. It isn't an obnoxious amount of light, it is soft and inviting. I find it quite calming! Oh, and I can't forget to mention, it comes with a remote control.
Is your little one afraid of the dark? This would make a perfect addition to their room, and it helps them feel a little more secure. The fun thing is that they can even choose a certain color, or you can have it cycle through all of them. You can even use white if you prefer to have a regular night light.
Do you need to add some calming light to your bedroom? This works great for that too! This is what I use my LOFTEK Globe Lamp for. It's nice to lay back and watch the colors slowly fade into one another. I find myself getting sleepy just by watching it. I have anxiety and panic attacks, so I am always on the lookout for anything that will help me relax. The soft lighting is so nice and calming. However, if you prefer to have it brighter, you can change that with the remote control.
Speaking of the remote control, let's talk about how many cool things this lamp does. First of all, it is made up of an LED light, and you can choose from many different shapes and sizes. It comes in 6″, 8″, 12″, and 16″. I have the 8″ one, and I absolutely love it! So, not sure you would use it in your home? Well, you can use this outside because it is fully waterproof. What a beautiful addition it would make to a garden, or simply in your yard. I know, I'm blowing your minds. I felt the same way.
So, of course, it comes with a charger, but the great thing is that it is very energy efficient. You don't have to worry about it becoming hot either. Now for the good stuff…it comes in 4 main colors (red, green, blue, and white), but all together it changes into 16 different color tones, and you also have 4 flash modes too.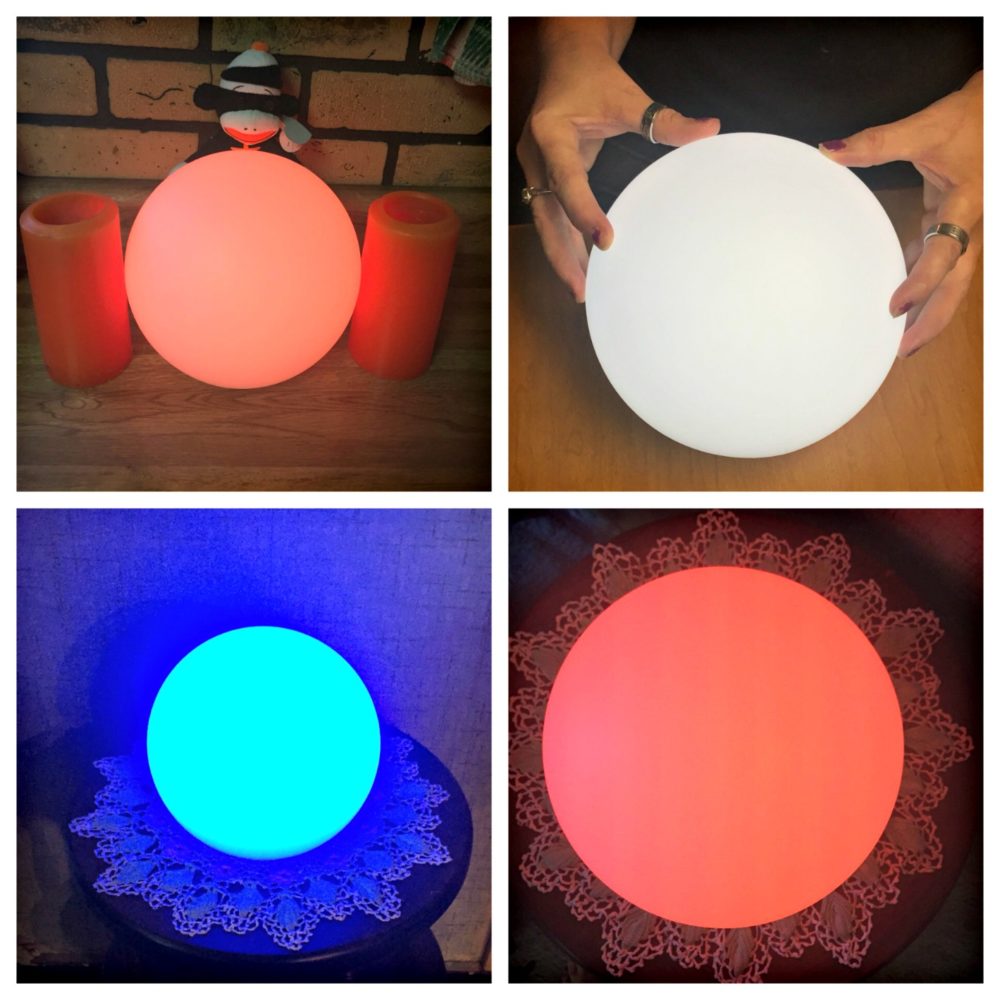 My sister just gave me a great idea. How awesome would this be to take camping? You could use it to illuminate your tent, or if you are night fishing, use it while sitting on the bank. Wow, I bet there are so many other ideas you all could come up with!
I am so pleased with my lamp and I can't wait for Halloween! I am going to show it off on my porch (in orange of course) for all to see.
Connect with LOFTEK/ Facebook/ Twitter/ Instagram/