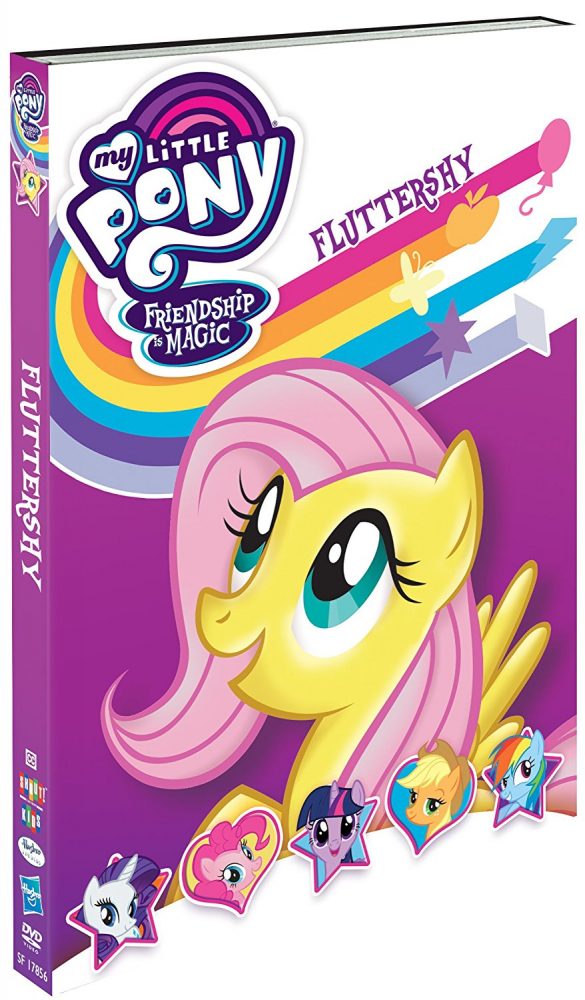 When my niece was younger she . loved my Little Pony. Now that we have younger nieces and nephews we are always. watching the newest videos that come out. My Little Pony Friendship Is Magic: Fluttershy, is the newest one to come out. Each adventure is completely different from the others. One is a time travel adventure, another is about protecting the Crystal Empire from freezing weather and another is about making friends with a creature that everyone assumes to be a monster. Despite the differences in each episode, they are all entertaining, unique and have wonderful messages behind them.
The main purpose of My Little Pony is to educate both kids and adults about friendship and everyday issues. It teaches these lessons in a variety of ways, with each and every episode having its own independent adventure that contains hilarious comedy and even action from time to time. The kids are not only enjoying this, they are learning about friends and so much more. There is always a lesson, in any of the My Little Pony DVDs and that's what I like the most from them. teaching children a great lesson and they have no idea.
My Little Pony is still great for kids, with bright colors, simple but hilarious jokes, and educational morals. But this series also appeals to adults with its compelling stories, relatable characters, and morals that can apply to adults as much as they do to kids
Episodes Include:
Green Isn't Your Color
Flutter Brutter
Buckball Season
Viva Las Pegasus
Fluttershy Leans In
Bonus Feature:
Sing-Along
Not every Pegasus pony in Equestria is the same. Just ask Rainbow Dash and Fluttershy. While Rainbow Dash is bold and daring, Fluttershy is quite reserved and caring. But that's what makes Fluttershy such a wonderful friend to everyone around her, whether they're her pony friends, like Twilight Sparkle, Rarity, Pinkie Pie, Applejack and, yes, even Rainbow Dash , or her non-equestrian friends, like Angel the bunny. Join in for five adventures that feature everypony's lovably quiet Pegasus, Fluttershy.
About Hasbro
Hasbro (NASDAQ: HAS) is a global company committed to Creating the World's Best Play Experiences by leveraging its beloved brands, including LITTLEST PET SHOP, MAGIC: THE GATHERING, MONOPOLY, MY LITTLE PONY, NERF, PLAY-DOH and TRANSFORMERS, and premier partner brands. From toys and games, television programming, motion pictures, digital gaming and consumer product licensing, Hasbro fulfills the fundamental need for play and connection with children and families around the world. The Company's Hasbro Studios and its film label, Allspark Pictures, create entertainment brand-driven storytelling across mediums, including television, film, digital and more. Through the company's commitment to corporate social responsibility, including philanthropy, Hasbro is helping to build a safe and sustainable world and to positively impact the lives of millions of children and families. Learn more at www.hasbro.com, and follow us on Twitter (@Hasbro & @HasbroNews) and Instagram (@Hasbro).
About Shout! Factory
Shout! Factory, LLC is a diversified multi-platform media company devoted to producing, uncovering, preserving and revitalizing the very best of pop culture. Founders Richard Foos, Bob Emmer and Garson Foos have spent their entire careers sharing their music, television and film favorites with discerning consumers the world over. Shout! Factory's entertainment offerings serve up feature films, classic and contemporary TV series, animation, live music and comedy specials. In addition, Shout! Factory maintains a vast digital distribution network which delivers video and audio content to all the leading digital service providers in North America. Shout! Factory also owns and operates Shout! Factory Productions, Scream Factory, Timeless Media Group, Westchester Films, Biograph Records, and Video Time Machine. These riches are the result of a creative acquisition mandate that has established the company as a hotbed of cultural preservation and commercial reinvention. Shout! Factory is based in Santa Monica, California. For more on Shout! Factory, visit shoutfactory.com.
My Little Pony – Friendship Is Magic: Fluttershy carries a suggested list price of $14.98 and is now available for pre-order at amazon.com, amazon.ca, and shoutkids.com.