Spring is Almost Here so Let's Get Cooking Healthier!
Spring will be here before we know it. Whether your New Year's Resolution was to eat healthier, or you're just ready for a change, there are some gadgets on the market that will make this task easier. So let's talk about ways to be healthier and check them out.
Fresh Juice is Tastier and Healthier!
When you make your juice fresh at home, you're getting all the nutritional benefits. Fresh juice contains more vitamins, minerals, and other nutritional compounds that your body thrives from. There are tons of juicers to choose from, but basically you have either a manual juicer, or a machine. If cost and room in your kitchen is an issue, then a manual juicer is perfect. T-Fal Ingenio Manual Juicer is small but mighty. It comes with two cup sizes and a filter to keep seeds out of your yummy juice. The smaller cup can also be used as a lid for the bigger cup. So if you don't finish your juice, you can just pop the lid on, and put it in the fridge. The MSRP is an easy to swallow $10.99 and you can grab one at Kohl's, various grocery stores, or by clicking the name above on Amazon.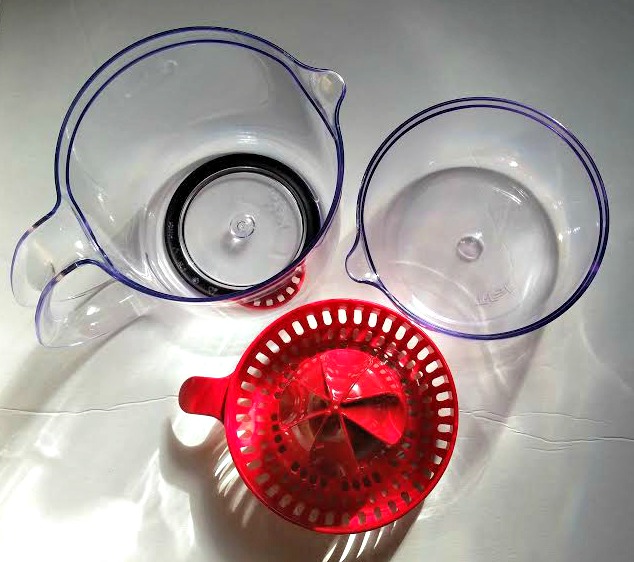 Steam Those Veggies!
Did you know that boiling your vegetables actually leaches out the good stuff? The longer they boil, they more nutrients they lose. So steam! Steamed veggies taste so much fresher any way, right? My son is super picky, and will only eat a select few vegetables, and they HAVE to be steamed. When I found the T-Fal Ingenio Steamer Basket I was ecstatic! Better yet, you can use it on your stove OR in your microwave! That's because it's made of heat resistant nylon. The basket also has a telescoping handle for easy removal. Trust me, it works great! You can grab one from Walmart, Kohl's, or on Amazon.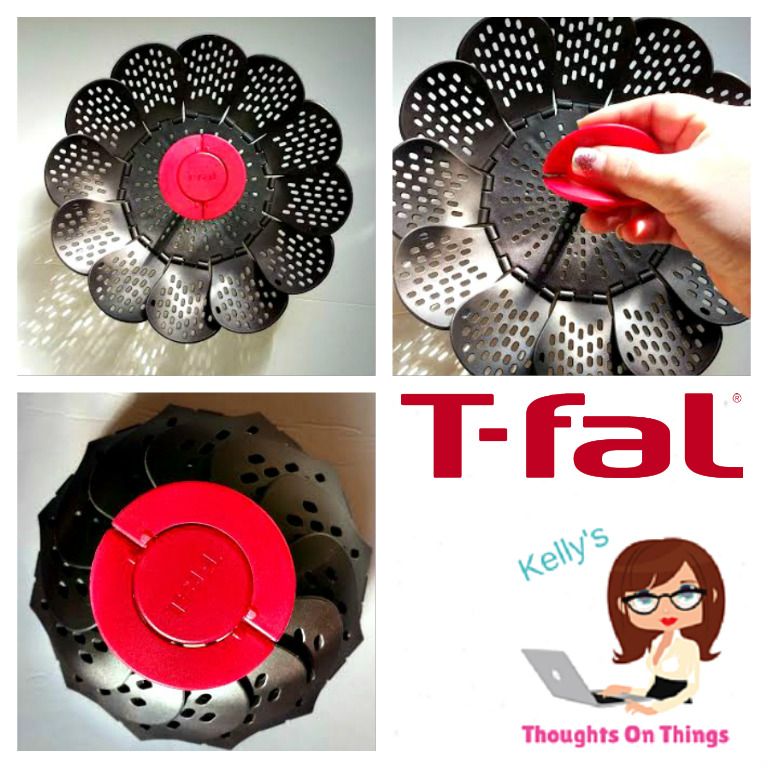 Toss That Powdered Parm and Grate FRESH Parmesan Cheese
Nothing beats Parmesan cheese on pasta. But that powdered stuff really isn't that great for you. As a matter of fact, if you read the label you'll see "Cellulose Powder." That's powdered wood pulp. Yes, wood pulp! So instead, you can opt for a fresh Parmesan cheese, and then grate it as you need it. The T-Fal Ingenio Multi Grater is fantastic for this! Thanks to its grate and dispense design, you can grate your cheese fresh, and then set the dispenser on the table for your family to be able to add their own cheese. Oh and its dishwasher safe too. You can grab one at Walmart or on Amazon.
Mash it up!
I'm a potato girl! I love mashed potatoes and mashed sweet potatoes. I also love roasting butternut squash, and then I mash that up too. It's amazing. (My dogs love it too, and it's so good for them! You can also use it to make them dog bones!) Because I love mashing veggies, I needed a really good masher. That's where the T-Fal Ingenio Masher comes in. It's made of high temperature nylon, and it can resist up to 450°F. The nylon makes it safe to use in your cookware, and the silicone bumpers on the sides are perfect for tapping of your food without digging up your pots or bowls. It's sturdy and works great. I love it! You can get yours at many grocery stores, Kohl's or on Amazon.
Get Your Bake On
I love to bake. That's probably where my healthy eating goes right out the window. However, I do a lot of baking for my dogs, which is much healthier for them, so you win some, you lose some. My favorite baking sheet is the T-Fal AirBake Non-Stick Cookie Sheet. First of all, cleaning it is so easy because of its non-stick surface. Also, it bakes so evenly and my baked goods are moister because of the layer of air. The Micro-Dome technology distributes the heat more evenly, and it acts as an insulator for the top sheet, which keeps you from burning your goodies. If you don't have one yet, head to Walmart and get one. You can also grab one at Home Goods, Publix, and Amazon.