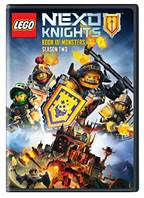 The NEXO Knights are back again to continue their fight against Jestro, the King's Jester turned to the dark side, and the stolen Book of Monsters which is filled with the world's most powerful spells! As the evil powers continue to grow, it is up to these seasoned pros to keep the villains at bay and the Kingdom of Knighton safe. But, Jestro and the Book are back with a vengeance and plan to do whatever it takes to conquer Knighton as Warner Bros.
To begin their lengthy quest to defeat Jestro and the Book of Monsters, the Knights must return to their old stomping grounds – the Knights Academy – to ensure that their NEXO powers and equipment are strong enough to keep up with the evil army. The second season is filled with a new set of hilarious adventures for the NEXO Knights, from a golden gala to a spicy chili cook off and to a crazy comic book convention. With experience under their belt, new gear at their disposal, enhanced powers, and Merlock the Magician guiding the charge, it is up to the NEXO Knights to protect Knighton and continue to search for the lost magical books. Will this be enough to defeat the army of monsters once and for all? The battles will be tougher, the monsters will be scarier and the stakes are higher as the threat to Knighton grows. Discover the fate of the Kingdom of Knighton in LEGO® NEXO Knights – Season 2: Book of Monsters.
We love all of the action and adventure that goes on in this movie. And there are a dew really funny parts too. the knights are great at working together and protecting the academy.
About The LEGO Group
The LEGO Group is a privately held, family-owned company with headquarters in Billund, Denmark, and main offices in Enfield, USA, London, UK., Shanghai, China, and Singapore. Founded in 1932 by Ole Kirk Kristiansen, and based on the iconic LEGO® brick, it is one of the world's leading manufacturers of play materials.
Guided by the company spirit: "Only the best is good enough", the company is committed to the development of children and aims to inspire and develop the builders of tomorrow through creative play and learning. LEGO products are sold worldwide and can be virtually explored at www.LEGO.com.