Get a head start on purchasing your school and art supplies for the next school year. All of us by the end of the year, end of with dried out markers, over used pens, pencils turned into stubs, lost erasers, and broken crayons. Children and adults love to unleash their creativity and imagination whether during art class, lunch time, after school and on the weekends. So, keep the ideas flowing with some special and high quality designed supplies to motivate the artist within.
Schneider Link-It 16041 Color Pens & PRIMO Wax Crayons
The Link-Its system cleverly allows two pens to link together simply. All you need to do is line up the arrows on both pens, push and click. The writing tips are encased within a stainless steel tube which makes the colored pens long-lasting and durable. These precise pens are great for expressive drawing, sketching, doodling, journaling and all your writing projects. The sustainable Link-It pens are the first fineliners and fiber pens on the market with a body made of bio-based plastics conserving scarce oil reserves.
Schneider LinkIt 16041 Color Fiber Pens – $30.49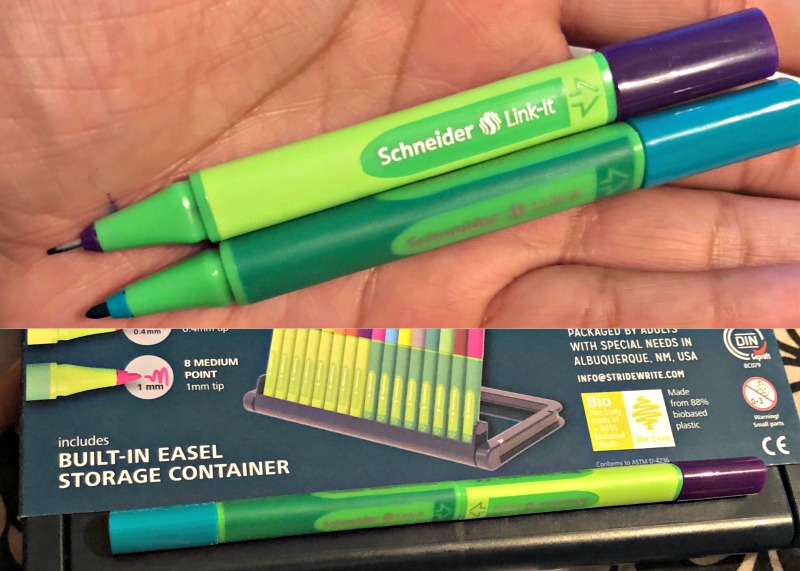 Features:
• The 1st modular system that links two pens together
• Made from 88% bio-based materials
• Line up the arrows to "Click"
• Rubberized grip
• Long cap-off length
• Three edge design allows pen to stay put
• 16 color fiber pen set with eight .4mm fineliners (fine) & eight 1.0mm fibertip (medium)
• Co2 Neutral – Manufacturing emissions fully compensated.
• Built-in easel stand and storage container included
• Winner of the ProK award 2017
• Winner of the Plus X award in five different categories.
PRIMO Wax Triangle Crayons – $12.99
These unique triangle-shaped crayons are amazing. They're easy to grip for small hands and they don't break. This means you won't have any dangerous bits of crayons laying around for consumption or choking. It also means you can save some money by not having to replace broken crayons. The triangle crayons come in 12 assorted colors: red, blue, yellow, green, purple, orange, brown, black, white, light blue, silver and gold. They work well for art rubbings, smaller details and larger coverage.
Features:
12 wax triangle crayons
Extra resistant
Made with nontoxic, pure beeswax and sun power
Safe to use for 2 years of age and older
Comes in convenient plastic storage case
Washable
Unbreakable
Made in Italy
Stride, Inc. and their Special Needs Crew
Stride, Inc. is the USA distributer for Schneider Pens and PRIMO among other office products. This small, woman-owned business is not your average company. Their goal is to not only provide consumers with exceptional office products, but to provide training and integrated employment for people with intellectual and developmental delays.
These terrific employees personally pack and ship orders and samples from Stride, Inc. Those with Special Needs are underserved members of the workforce, with about 7 million being employed out of 56.7 million people with disabilities. The poverty rate of those with disabilities is 8% higher than those without disabilities, and many of those employed are in jobs that pay sub-minimum wage based on their output.
Stride, Inc. is nationally recognized for integrated employment of adults with Special Needs where they do not pay sub-minimum wages, their employees can advance within their organization and everyone gets paid time off and a retirement plan. Stride, Inc. recently won a national championship from SCORE and Sam's Club because of their integrated employment. THANK YOU PETER FOR PACKING MY SAMPLES & VICTOR FOR SHIPPING THEM. TO ALL OF STRIDE, INC – THANKS FOR THE GREAT WORK THAT YOU DO TO FURTHER EQUALITY FOR THOSE WITH SPECIAL NEEDS IN THE WORKPLACE!
Also, Schneider is holding a giveaway contest: Buy the LinkIt! 16041 Pens at one of 952 Walmart stores, post an image with your receipt on their social media account to be entered to win $80+ worth of Schneider pens. Email [email protected] or inquire on their social media accounts and they will direct you to a Walmart store located nearby to you!
CONNECT WITH…
STRIDE, INC: Site | Facebook | Instagram | Twitter | Pinterest
SCHNEIDER: Facebook