This blog post is sponsored by Tatu Digital Media
Do You Hate Those Nasty Fees That Stores Charge For Gift Cards?
I do! Most of us are buying gift cards to save money on shipping charges. However, I think stores caught on to that and now most charge a fee for purchasing and activating the card. Why do that!
Last Christmas, my mom, was so frustrated because she lives in Arizona so sending gifts to the kids gets a bit costly, so she decided to buy all the grandkids gift cards, but she didn't know about the fees that come with buying at a store. She was so upset at all the extra charges that she said we wouldn't be doing that again.
Happy Cards are a new type of no-fee gift card
When I told her about Happy Cards, and it is a new type of gift card that has NO FEES! She was super excited because my daughter is graduating next week and she wants to get her a gift. My daughter is a TEEN, so gift cards are the best gift a grandma can give these days. Plus I told her if she buys at her local Safeway then she can get $10 off her next shopping trip. BONUS!
My mom is going to get the Happy Bites gift card for my daughter because it has Peet's Coffee on it and that is her place to go on the weekends (with me of course)! Or maybe she will take us all out to eat to Noodles & Company. I know wishful thinking there for me, but you know what I'll buy my own card and save $10 on my next grocery trip.
What Type Of Gift Cards Can You Buy
For Dad or Grad get them a card with all the cool places to go like Burger King, Auto Zone, The Home Depot, Buffalo Wild Wings and more: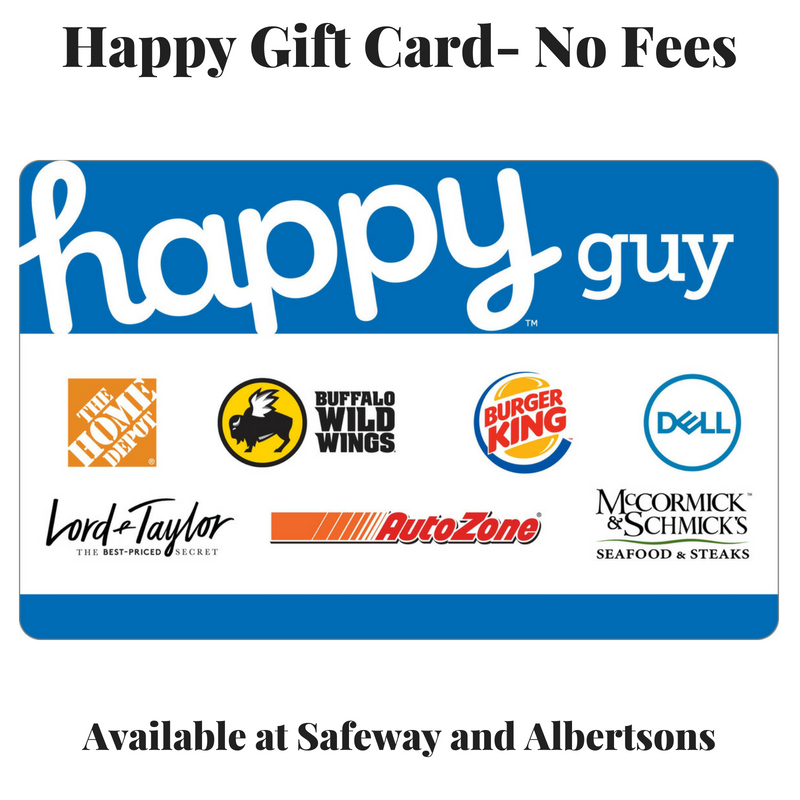 Or maybe Dining to Red Lobster, The Cheesecake Factory, Bravo and more
Then there is the Happy Bites Card which has Peet's Coffe, Burger King, Jamba Juice, and more!
Starting June 6th until June 23: Get Happy with Happy Cards, a hot new gift card available at select Albertsons and Safeway stores.
Want to know the SCOOP on how you can save money and how these cards can help you make Dad or Grad a Happy camper!
Go to Albertson's or Safeway and select your Happy Card and fill it with from $20 to $500 for your favorite Dad or Grad. (Or maybe for yourself, we won't tell…)

Buy $50 or more in Happy Gift Cards and t

he clerk will give you a register coupon for $10 off your next in-store purchase.
This offer ends 6/23/18
Happy Card Merchants
McCormick & Schmick's, Brio, Texas de Brazil, Cheesecake Factory, Red Lobster, Bravo! Dell, AutoZone, Lord & Taylor, Burger King, Buffalo Wild Wings, The Home Depot, Lord & Taylor, Sephora, Bed Bath & Beyond, Saks Fifth Avenue OFF 5TH, Panera Bread, Spafinder and more!
GIVEAWAY: Do You Want To Win $50 Visa CARD!
Visit www.happycards.com to learn more!
See your local store for details, terms, and conditions
Find an Albertsons or Safeway near you!