I am so excited to share with you this Halloween Countdown Printable! I love the spooky, creepy feeling of Halloween and can't wait for my kids to get home from school every day just so they can tell me what they are dressing up as.
This printable is perfect for keeping track of how many days there are until All Hallows' Eve.
Halloween is a time for ghosts, goblins, witches, and warlocks. It's a celebration of riddles and sweets. Halloween involves dressing up as your favorite superhero or cartoon character or even someone else entirely!
Halloween may be lots of fun- it's the one night of the year when you don't have to worry about being mocked for wearing something goofy because everyone will realize why you're dressed up in costume on this one night.
However, Halloween isn't simply a night when folks go all out with their creativity – it's also my favorite holiday of the year!
To mark the days until Halloween, I created these printable sheets.
Now people everywhere can mark down the days until Halloween arrives.
Halloween is right around the corner.
I am excited for Halloween to come. I love Halloween, and it is my favorite holiday.
It is a day when you get to have sweets and costumes and parties with friends.
It's also a time when you can start getting back into shape for all the fun parties in the next two months!
There are only two months left until Halloween, which isn't very long at all!
To help me count down the days until Halloween, I created a Halloween countdown printable to do some Halloween planning along the way.
Halloween Countdown Printable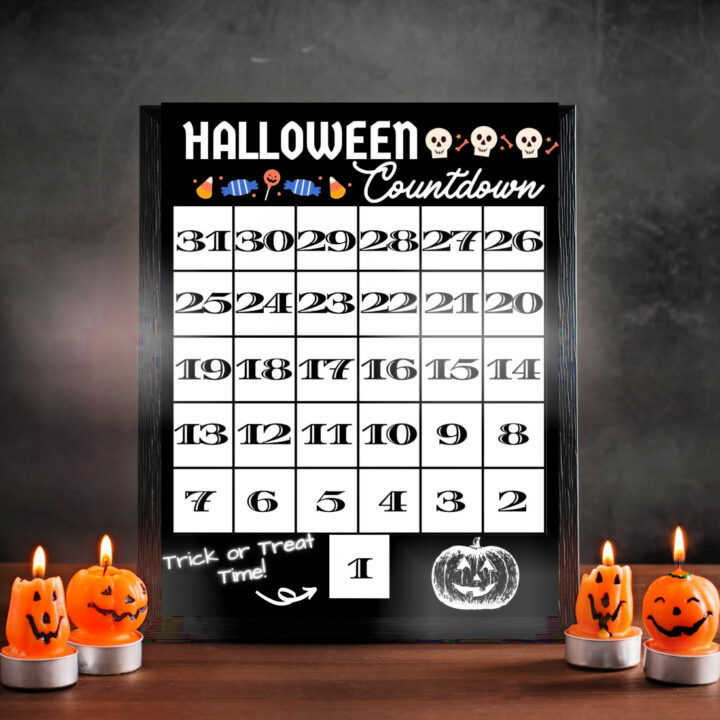 This Halloween Countdown Printable can help you and your family countdown days until Halloween.
You can download it by clicking right here.
Halloween is a fun time of the year, and we're counting down, just like we count down to Christmas with our Advent Calendar.
Every day, cross off or apply one of the stickers to the Halloween countdown printable sheet and place it on the refrigerator so the kids may see what day it is.
This Halloween countdown printable is highly flexible; you may pick how many sheets you want in your countdown.
Remember that Halloween will only be here in two months! It's not very long when you think about it, and counting down with our Halloween Countdown Printable is a cinch.
The countdown begins on October 1st, so you can figure out how many days remain in October.
Get ready to celebrate Halloween!
This Halloween season, the Halloween Countdown Printable is precisely what you need. Start counting down the days until Halloween with your free Halloween countdown printable!
Halloween will arrive before you know it, so make sure to keep track of it on your calendar or watch.
Because it's such a great time to dress up in costume, eat lots of candy, and have all kinds of Halloween parties, I think Halloween is my favorite holiday of the year.
There are so many things that come along with Halloween- getting back into shape for all of the
Halloween parties, shopping for costumes, carving pumpkins, playing Halloween games- which are way too much fun to miss out on!
It's only a few months until Halloween arrives, so keep the excitement going! We're keeping track just like you are.
Halloween is a holiday when children and adults alike may dress up as their favorite characters, carve pumpkins, spend the spooky season with family and friends, watch horror films on Netflix or Hulu, and much more.
Halloween is rapidly approaching, with just two months until Halloween night on October 31st.
It might be enjoyable to start planning what you want to do during the holiday now that it's only two months away.
It's time to start getting your costume ready! This printable is perfect for keeping track of how many days there are until All Hallows' Eve.
Download the free printable and you'll be all set!
I hope this blog post has been helpful, if not, please let me know in the comments below what else you would like to see on my site that will help with Halloween preparations or decorating ideas.
Happy counting down!