School's out, summer is here, and there is still so much to be done. Over summer vacation you are the family are going to be looking forward to a ton of things. For the most part, having fun is going to be the main thing on everyone's mind. Although at night, is when you can sit down together and enjoy a couple of family-friendly films. I have a couple of titles for you to consider.
Just In Time For This Summer's Highly Anticipated Release
It's time we get everyone ready for everyone excited for the July 13! Anyone who has seen Hotel Transylvania series should be eager for that date. It's the day Hotel Transylvania 3: Summer Vacation hits theaters everywhere!
But before then, why not enjoy the films that came out before then. Here's everything you need to know about the first two Hotel Transylvania films.
Hotel Transylvania
Welcome to Hotel Transylvania, Dracula's lavish five-stake resort, where monsters and their families can live it up, and no humans are allowed. One special weekend, Dracula (Adam Sandler) has invited all his best friends – Frankenstein and his wife, the Mummy, the Invisible Man, the Werewolf family, and more! All to celebrate his beloved daughter Mavis's (Selena Gomez) 118th birthday. For Dracula, catering to all of these legendary monsters is no problem, but the party really starts when one ordinary guy stumbles into the hotel and changes everything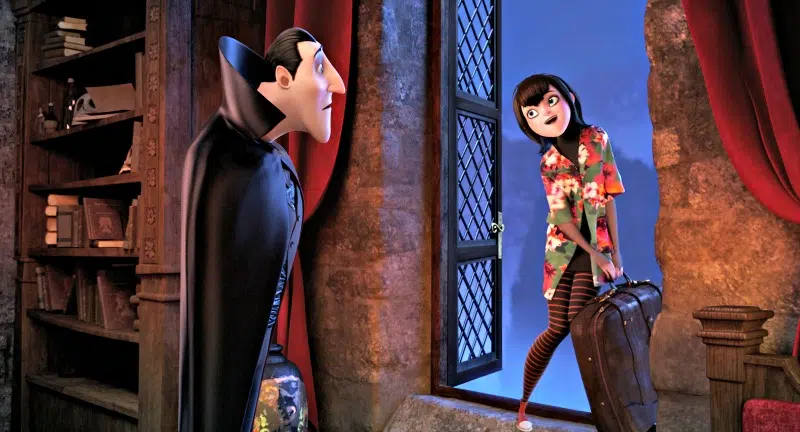 Hotel Transylvania is available on Blu-ray + DVD, and it comes with a ton of bonus features including the following:
3 Deleted Scenes
"Problem (Monster Remix)" Music Video by Becky G Featuring will.i.am
Behind the Scenes of "Problem (Monster Remix)"
And More!
Hotel Transylvania 2
In this monster comedy adventure, everything seems to be changing for the better at Hotel Transylvania! However, Drac is worried that his adorable half-human, half-vampire grandson, Dennis, isn't showing signs of being a vampire. So while Mavis is on vacation, things get batty as Drac enlists his monster friends Frank, Murray, Wayne, and Griffin to put Dennis through a "monster-in-training" boot camp!
Hotel Transylvania 2 is also available on Blu-ray + DVD, and it comes with a ton of bonus features including the following:
Fifth Harmony Music Video: "I'm In Love With A Monster"
Character Sketch Gallery
Feature Commentary with Adam Sandler, Robert Smigel, and Allen Covert
These are two summer films that you and the family have to watch together! Especially before the arrival of the next big film in July. Let's get everyone excited for the arrival of the next chapter of the monster world. Check out all of the information I have for you above.
Also, you can enter a giveaway for a chance to win a copy of both Hotel Transylvania and Hotel Transylvania 2 on DVD from Sony Pictures Home Entertainment! All you have to do is click here.