I love and appreciate art very much and studied it in school. It's wonderful being surrounded by a lovely painting and objects in the home or office—anywhere you spend the majority of your time. Art can help you relax and enjoy life a bit more. Though many pieces of art may not exactly be described as simple, it's amazing to contemplate fantastic works filled with much effort and determination. Some only using simple tools such as paint and brushes, and other pieces taking years upon decades to complete.
Art can also be a most effective way to make a statement, getting others to grasp a different point of view other than their own. Art can also reinforce how you see yourself and how you view the world. It's a wonderful way to study human nature, politics, history, emotions and culture. Art is all around us and one of the main constants in life.
"Les Fleurs Du Matin" – Watercolor Botanical Art
€32.00- €150.00
I enjoy different types of mediums, but especially love watercolors, pastels and acrylics. Flavia Bernardes is a brilliant fine artist, illustrator and children's book author. She works mainly with portraits using oil painting, watercolors and oil pastels, and writes and illustrates her own children's books. Based in Ireland, Flavia offers original canvas art and watercolor paintings, as well as prints of her original art.
"Morning Song"- Watercolor Bird
€32.00- €150.00
Commission a Painting from Flavia!
You can commission your own piece of artwork from Flavia. The commission could take the form of what Flavia calls a Body Positive Art or a Custom Painting. Both are discussed and planned thoroughly with the artist. She will work from photos of yours, meeting about and discussing with you the aesthetics plan as well. You will get to see the behind-the-scenes action of your commissioned piece in the making too. Complimentary pictures and a short video of the entire process are made available to you.
"Making Waves" – Body Positive Art
From €83
Flavia's art includes abstracts, portraits of nature, and body positive portraits of people. These pieces and the commissioned artwork option, make lovely and unique gifts for anyone, especially for your Mother, this coming Mother's Day. Flavia truly aims to collaborate with you, creating a custom piece of art that you can be proud of.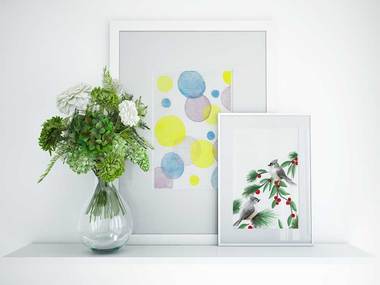 "Adagio" – Watercolor Abstract & "Mistletoe" – Watercolor Bird
€32.00- €109.00
CONNECT WITH FLAVIA BERNARDES ART: Site | Facebook | Instagram | Twitter | Pinterest