As I creep into the mid-30's, I can't help but have anti-aging skincare on the brain. Sure, I'm a long way from telling everyone that "I still got it," but I need to prepare myself for what's to come. It's inevitable at my age to start gaining an interest in the options available to remain youthful and glowing. Though, I'm told that I look young for my age, we always scrutinize ourselves more than anyone else. My skin is changing for certain and things surely aren't what they used to be.
Give the Gift of Beautiful Skin
Constantly surrounded by so many skincare choices, I'm always very curious and sometimes confused by everything coming my way. It helps me make stronger long-term decisions, if I'm able to purchase products in travel size before fully committing to them. Skincare products react differently for each person and I truly appreciate being able to try before I buy too much.
La Différence Cosmetics is a skincare line created in an FDA-approved, scientifically advanced laboratory. Clinically-proven, these products use active ingredients that work to repair, hydrate and rejuvenate the skin. Conveniently enough, they have holiday gift sets available to purchase for men and women. The skincare bundles include two great travel sizes of their best-selling products packed inside a festive red mug!
Included in the women's gift duo is their LDC Cucumber Eye & Lip Cream. The cucumber smell is so refreshing! The blend of Cucumber Extract, Peptides, Vitamin E and Retinyl Palmitate gets to work immediately. I could tell a difference the first time I used it — my lips seemed to be a bit plumper and were temporarily rid of wrinkles and fine lines!
Best-Selling Products
Women's Skincare Duo includes:
LDC INTENSE Cucumber Eye & Lip Cream
Contains a blend of Cucumber Extract, Peptides, Vitamin E and Retinyl Palmitate
Moisturizes and softens the skin
Helps alleviate dark circles
Positively influences Collagen growth
Delivers antioxidant benefits
Helps reduce fine lines and wrinkles
LDC INTENSE Firming Neck & Décolleté Cream
A skin tightening wonder with peptide ingredients and a moisturizing Hyaluronic base
Helps prevent the loss of skin elasticity
Reinforces the skin's natural tightness
Promotes the proliferation of collagen cells
Reinforces connectivity in the dermo epidermal junction
Moisturizes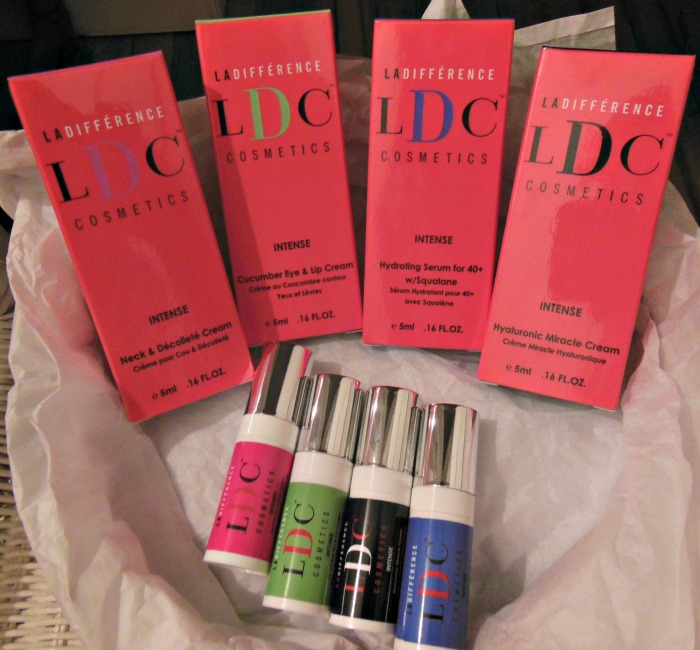 Men's Skincare Duo includes:
LDC INTENSE Hydrating Serum for 40+ w/Squalane
A pure moisturizer derived from the bountiful goodness of olives
Smoothes skin and softens wrinkles
Moisturizes dry and irritated skin
Helps inhibit UV and free radical damage
Is an antioxidant
Is stain free and odorless
Protects the skin
LDC INTENSE Hyaluronic Miracle Cream
A blend of moisturizing and antioxidant ingredients to ensure that the skin remains hydrated and balanced to prevent signs of aging
Moisturizes the skin
Helps promote new collagen and elastin growth
Helps regenerate new skin cells
Plumps and firms the skin
These products seem to instantly firm and tighten the skin. Don't believe me, take a look at these before and after photos. You will see the results!
Connect with La Différence Cosmetics: Site | Facebook | Instagram