Teens can be the hardest to buy for during this time of the year; they usually want money or food. But this year we want to share with our readers a few ideas that they might like!
Room Decor
Inflatable chairs from BloChair!
BloChair is a luxurious and premium collection of inflatables and inflatable furniture designed for fun and luxury. Suitable for both indoor and outdoor enjoyment, they are made to be comfortable and enjoyable while adding a whimsical flair to your space. So they can have in their room or when their friends come over to swim in the pool or hang out- take the chair outdoors too.
You can get the chair online at https://www.poolcandy.net/collections/blochair but also Bed Bath & Beyond, Amazon, Dillard's, all of the big guys. There are several colors to pick from or coordinate with colors in their room. The chair is easy to assemble, easy to move, easy to clean, and very easy to store, so basically "millennial proof!"
My daughter is going from a TWEEN to a TEEN, and so she is redoing her entire room during the holiday break, so I know she will love this chair plus it is GLITTER GOLD.
Bedding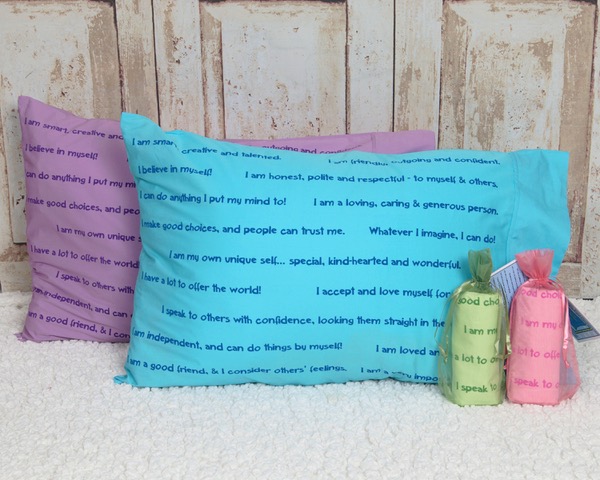 Pleasant Dreamz Positive Affirmation Pillowcases
Developing a positive mindset and self-image is one of the most powerful life strategies there is! When using powerful positive-thinking techniques, such as Positive Affirmations, it is possible to achieve whatever you want in school, work, relationships, and life!
Teens seeing this pillow every morning would be a fantastic reminder. Strong self-confidence is essential and keeping positive in this crazy world is vital to everyone, so this could be a gift for anyone you think needs that daily love. Because your subconscious mind believes what you tell it, by repeating your Positive Affirmations daily, it can truly transform your life, by affecting your habits, behavior, mental attitude and reactions, and even reshape your external life.
Keeping it, Positive was started with the hopes of spreading POSITIVITY and building self-confidence for everyone to know they can do anything they put their mind to. Remember, your POSITIVE attitude is the fuel to your success! There are no limits to what you can achieve.
The pillowcase is 20″ x30″ 100% cotton/300 thread count with 16 positive affirmations printed and comes in Pink, Purple, Blue, and Green. To get the most out of this pillowcase is to say each of the Positive Affirmations on the pillowcase EVERY night before going to bed, and when you wake up in the morning, and you will be bursting with joy, energy, and excitement for each new day!
Please visit www.KeepingitPositive.net to get your Pillowcase today!
---
Clothing
Pajamas
Teens still need PJ's so why not get them one of these cool Disney's beloved movie, The Nightmare Before Christmas pajama sets. You can get this stylish sleepwear collection at Walmart; this collection has set with shorts, tights, leggings, rompers, and on-trend batwing tunics. All sets under $20.
---
Beauty
Eye Mask
Next on our list is for the teens who are into beauty items like the USB Heated Cotton Surface Eye Mask. This eye mask is super easy to use because it is powered by powered by the computer, power bank, or through any USB adaptor. It's perfect for traveling, outdoor activities, and after work relaxation. After a long day of classes, this would be perfect for relief.
They can control the temperature and time. There are four classes heat temperature from 95°F to 122°F; 4 classes timer from 10min to 30min. Recommended temperature is 113-122°F / 45-50℃, time is 20min. The soft cotton fabric mask and smooth warmth relieve eye stress and tiredness. The eye mask conforms to the face and fits over the eyes. It fits all head sizes with an adjustable pain-free head strap. Best thing is this eye mask is reusable, and the cover can be detached and washed if needed.
---
Healthy

Water Bottle
The Pressa Bottle the only bottle with a manual powered press, we like to call the result "pressed water," and we help reduce waste from one-time use water and juice bottles. The bottle is made from BPA-Free Tritan plastic. This is the highest end plastic available and is very safe. The product itself comes in a glass and plastic bottle. Press it not infuse it; now you can make flavored water that has flavor.
The Pressa Bottle sells in stores like Dillards, Francesca's, Saks Fifth Avenue, and Bloomingdales now. This Canadian company went on a show like the Shark Tank and received a deal that helped them immensely.
With the Pressa Bottle, you can press fruit into any beverage. A unique press slowly squeezes your favorite fruit, releasing the delicious juices that are stuck inside. The result, a distinctive and delightful creation called pressed water. Don't waste time waiting for water to infuse, twist n' press natural flavor.
Read more HERE
Follow on Facebook–Twitter–Instagram–Pinterest
---
So hopefully that gave you some ideas on what to get the TEEN this year, we do love these products and recommend them to our readers.