Gifts for the Brown Thumb!
Yes, you heard of a green thumb- those people who can grow flowers, veggies, and plants with just a seed and it will live for a long time. Then you have the people like me that love the concept of growing, but sometimes it just doesn't work out. So we need something that is easy to grow and hard to kill. Does that sound like anyone one you know? No worries we have three gift ideas, and we recommend all of them.
Succulents
One thing I love around my house is PLANTS, but guess what I usually kill them after a couple of months. But guess what I found a plant that is very hard to kill and mine is looking good and its been MONTHS~! Succulents are trending houseplants these days, and I can see why. When I go to flea markets, I see them in many different vase/pot ideas. If you are big on succulents then you need to connect with Succulents Box, who is based in California, they offer 150 varieties of succulents and monthly subscription boxes.
Succulents can be indoor and outdoor plus make great home decorations. They generally like sunlight, some like direct sunlight some like indirect sunlight, which means that they can be placed on your windowsill or anywhere inside with plenty of the sun, or they can be set outside on the patio with some shade over them. Succelents are perfect for the brown thumb people.
Subscription boxes make great gift idea- read more HERE One succulent a month costs $5- YES $5 up to 4 which is $20.
---
Urban Leaf's Window Sill Garden Kit
Urban Leaf helps people with brown thumbs grow a garden and keep plants alive. Exactly what I need! Have you ever tried to grow herbs? Oh my, if not this is super easy to set up and grow. My daughter did, and within a few weeks, we had fresh basil. She loved watching the basil grow in the window. I've tried other herb growing kits but this one worked, even with my brown thumb!
One cool way to do that is with Urban Leaf and a wine bottle– yes that simple. People (like me) have a hard time growing stuff is hard. So they made it easy with a patent-pending design that turns a decorative bottle into a full-time plant-sitter. It takes the pressure off us and keeps the plants happy. From windowsill to your plate, can't go wrong with that!
Follow on Facebook–Twitter–Instagram
---
HAMAMA Microgreens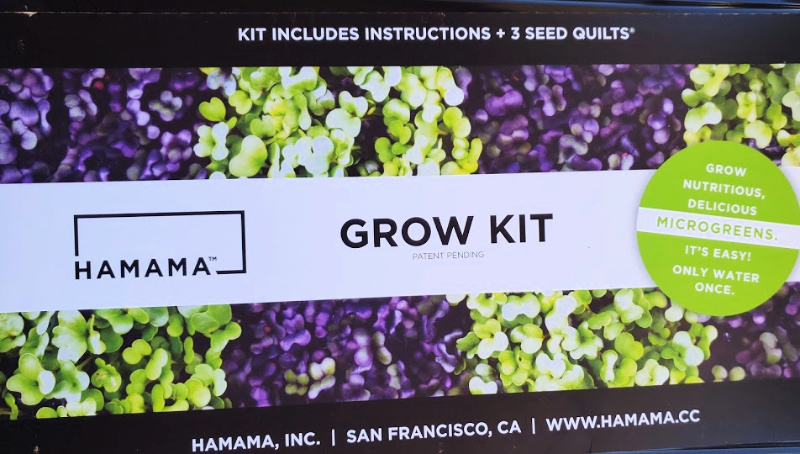 Yes, microgreens. You can grow your own microgreens at home oh yes you can with HAMAMA Microgreens. The kit is mess-free and hassle-free that is an excellent gift for green living, healthy food, and gardening enthusiasts. It's also amazing for getting kids excited about plants, gardening, and trying new healthy foods. It is effortless to use. Perfect gift for us brown thumb people.
All you have to do is pour 3 cups of water into the tray, plant one of our Seed Quilts, and come back in 7-10 days to harvest your superfood microgreens! Microgreens are great for sandwiches, salads, or even plain as a fresh snack. Microgreens are the seedling versions of regular leafy greens and vegetables and are 4-40x more nutritiously dense than their mature counterparts, according to USDA studies.
Highly recommend getting the Starter Kit Gift which includes reusable grow tray, easy growing instructions, and the two most popular Seed Quilt flavors: Super Salad Mix and Energizing Kale- sells for $39 and Free Shipping! This is a gift that makes it easy to have the freshest possible microgreens on hand year-round. Plus, this kit makes a beautiful, green addition to any home!
Everything you need to grow microgreens. Just add water! Works in low light. All non-GMO seeds.
Follow on Facebook-Twitter–Instagram
---