As a mom with two children, I know how hard it can be to see our children sick. We love to see our children happy and vibrant. When they get sick, we try to make them feel better the best way we can. Throat Scope has an excellent tool that you can use at home for medical oral evaluations.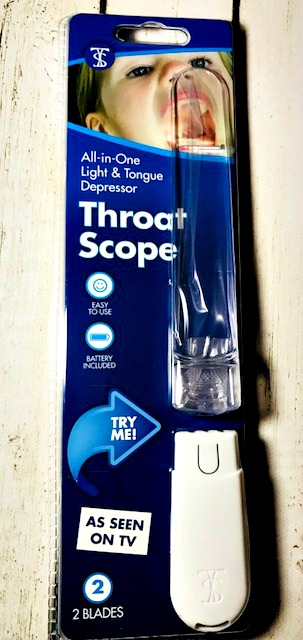 Throat Scope
Throat Scope is the world's first all-in-one light and tongue depressor. It is endorsed by U.S. Oral Cancer Foundation.. Two powerful long-life LED lights are automatically activated when a blade is inserted. The LED lights help to give a clear view of what going on in your mouth. Created by Jennifer Holland, a mother of four, she spent years of witnessing difficult oral exams for her children when visiting the doctor and thought of a more reliable and easier solution. You can use the Throat Scope to check for a sore throat, strep throat, tonsillitis, any teeth coming in or coming out, mouth sores, cold sores, and just the overall oral health. It has many uses and can help save you time and money from visiting the doctor if it is something as simple as teeth coming in.
I found the Throat Scope really easy to assemble and use. I was amazed at how much you can see with the LED lights. It gives a clear view so you can easily see if there are any issues. My son did not start gagging like he usually does when we go to the doctor and they check him out. This is one of those items that every parent should have on hand. Kids can get sick at any moment, so it is great to have this handy device readily available.
http://https://www.youtube.com/watch?v=1cEtWrv_J1w
Not only is this a great present to give during Christmas, but it would make a great gift for new moms at a baby shower. Even moms that already have children will benefit from having a Throat Scope. Throat Scope is available in CVS stores nationwide. The starter pack retails for $19.99. You can purchase replacement depressors in box sets of 50 or 100.
Connect with Throat Scope: Site | Facebook | Twitter