It is BBQ season. We usually BBQ all season long, but we do more in the warmer months, usually Spring, Summer, and Fall. We have a good selection of BBQ in Charleston, but sometimes we like to cook at home. New York Times best-selling author, Barbecue Hall-of-Famer and PBS TV Host, Steven Raichlen has created Steven Raichlen's Project Smoke World-Influenced Barbecue Sauces and Steven Raichlen's Project Smoke World-Influenced Barbecue Rubs. I do not know about you, but if your husband or dad, loves barbecue, then this would make a great gift for them on Father's Day.
Steven Raichlen's Project Smoke World-Influenced Barbecue Sauces
Personally formulated by Steven Raichlen, the barbecue sauces are custom-blended and bottled in small batches. The combination of the flavors are well balanced and taste delicious. With over six flavors to choose from (Cabernet Rosemary, Cherry Beer, Chipotle Molasses, Lemon Brown Sugar, Smoky Mustard, and Spicy Apple), you are bound to find at least one barbecue sauce that you will love.
My favorite is the Lemon Brown Sugar barbecue sauce. It has a sweet and bright flavor profile. When tasting the Cherry Beer barbecue, I instantly tasted the beer, but then the cherry flavor came through. The Spicy Apple barbecue sauce is quite spicy when you first taste, but then subtle out just a little bit with the apple flavor.
The barbecue sauces are available for purchase on Amazon, cameronsproducts.com or barbecuebible.com. Retail Prices: $9.95 – $37.95
Steven Raichlen's barbecue rubs are packed full of flavor. They also smell delicious. You can use the rubs more for just barbecue. If you are not a barbecue person, you can find a way to use the rubs. Some fun ways to use the rubs can be on steak, on ribs, on chicken, on vegetables, on fish, and even on vegetables. Each of the rubs are blended by a boutique spice house in small precise fresh batches with ingredients handpicked by Steven Raichlen. The rubs are available in the following flavors: Malabar Steak, Carolina Pit Powder, Kansas City Smoke, Santa Fe Coffee, Fennel Pepper, and Greek Island Herb.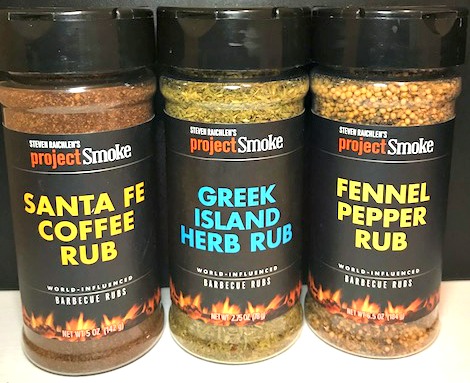 Get husband or dad ready to grill out this Father's Day, by giving them rich and flavor barbecue sauce and rubs.
Connect with Steven Raichlen: Site | Facebook | Twitter | Instagram
You can purchase them Amazon cameronsproducts.com or barbecuebible.com. Retail Price: $6.99 or $34.95 for a 6-pack.