Everyone wants beautiful and youthful looking skin. We want our skin to be soft as a baby. Fernberry has four luxurious products that you can give to someone your love to help their skin feel hydrated and silky smooth.
About Fernberry
Fernberry makes ethical Japanese beauty products that deliver effective moisture replenishment to your skin restoring its youthful radiance. Fern Koh is the CEO and Founder of Fernberry Skincare. At Fernberry, they use a secret, powerful ingredient called the Next Generation Hydration. This secret ingredient is derived from Hyaluronic Acid. It contributes to youthful looking skin. Their products are scented with 100% essential oils. These essentials oil help to uplift and soothe you as they stimulate the nervous system.
Ferberry's Products
Moisturizing Mousse – Ultra Fine Daily Body Scrub
The Moisturizing Mousse – Ultra Fine Daily Body Scrub is one the best scrubs that I have ever used. It feels incredibly smooth in my hands and even better when I apply it to my skin. The container allows you to squeeze out just what you need (you only need a small amount). It is important to note that after using this scrub to store it at room temperature and dry places to avoid re-crystallization in your shower which could cause clogging.
Replenishing Smoothie – Conditioning Foot Cream
I used the Replenishing Smoothie – Conditioning Foot Cream right after the Moisturizing Mousse Ultra-Fine Daily Body Scrub to maximize the benefits of getting rid of dead skin cells. The foot cream is just as good as the body scrub. Japanese Tsubaki oil is one of the ingredients in the foot cream that helps to keep your feet baby smooth.
Petals & Cream – Softening Hand Cream
The Petals & Cream – Softening Hand Cream contains vitamins and minerals to help your hands look younger. It is a light cream that will leave your hands just like the product is named, a petal. This softening hand cream is perfect for this winter to keep dry hands moisturized.
Mochi Lips – Nourishing Lip
Conditioner

The Mochi Lips – Nourishing Lip Conditioner is essential for anyone that loves to keep their lips soft and supple. Fernberry recommends that the Mochi Lips be dry and well absorbed into your lips before putting on lipsticks (10 minutes for regular lipstick and 39 minutes for retro matte lipsticks).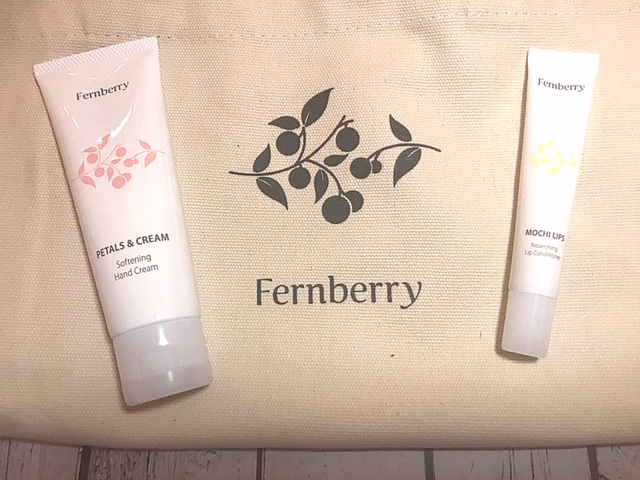 For your beautiful friends and loved ones, gift them Fernberry products for Valentine's Day. They will be happy to receive gifts that can benefit their skin.
Connect with Fernberry: Site | Facebook | Twitter | Instagram