Easter Gift Box
This Easter Gift Box Printable is so cute and easy to make! is just around the corner and so it's time to start planning out what you want to do and give out to the special people in your life. Easter is a fun time to celebrate with beautiful pastels colors and all things SPRING~Flowers, sun, grass and of course, the bunny rabbit. This year my daughter and I are going to make Hoppy Easter Boxes for our family and friends. We plan to put in candy, stickers, and other fun items we gather from Amazon. Please make your own Easter Box with the instructions below. Have a good time!
Last weekend we went to Micheal's Craft Store and picked up a pack of white card stock paper. If you don't have a Michael's by you then you can order some paper off AMAZON (under $10) and also items to put in the boxes- Easter Stuffers (see ideas below).
You will also need GLUE or DOUBLE-SIDED TAPE and scissors.
Print out this FREE PRINTABLE on the letter-size paper card stock: Click on the picture and it will take you to a printable.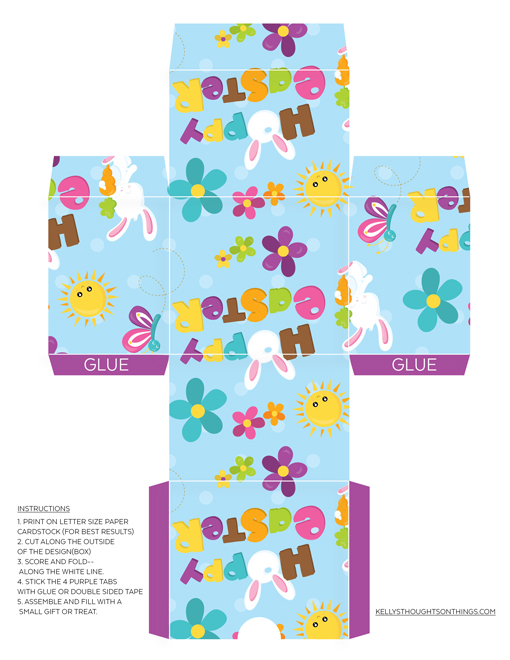 Okay, so you have your box now what…put fun Easter items in it. We have some ideas for you:
For the Kids:
GRHOSE Iron Man Spiderman Superman Batman Hulk Wolverine 8 Mini Figures Set Lego Fit
20 Easter eggs filled with mini toy figures

Egg Shaped Porcupine Balls- 12 Pack
Easter Temporary Tattoos Party Favor Pack — Over 50 Tattoos (Easter Bunny, Chicks, Easter Eggs and More!)
For Adults:
6 Ultra Lush Essential Oil Handmade Spa Bomb Fizzies
Lindt LINDOR Caramel Milk Chocolate Truffles 60 Count Box

Now you know there is so many gifts you can put in these cute Easter boxes so get creative and YES we want to see your pictures! Leave us a comment or tag us on our Facebook Page.
Thank you!