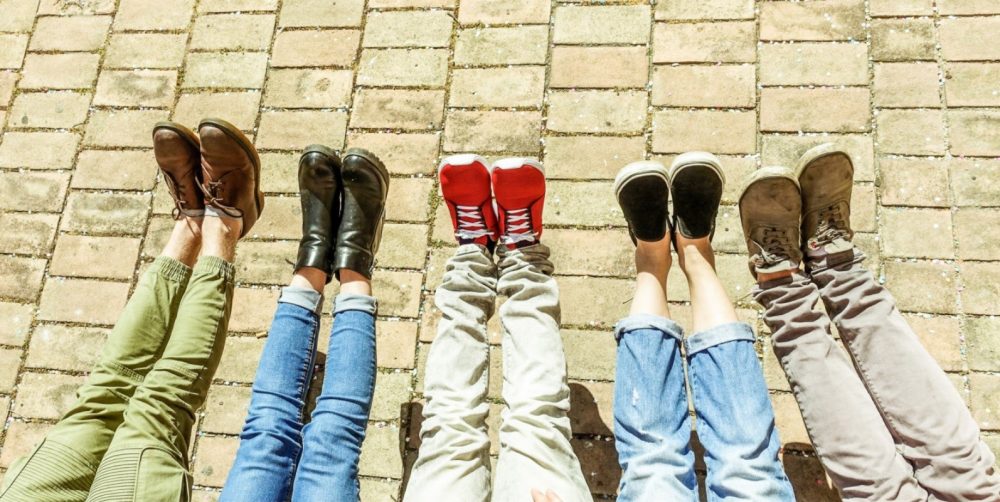 We take our feet for granted and only think of them if they're aching after a grueling hike. But our feet work wonders from carrying the weight of us to keeping our bodies aligned and balanced.
Our feet are always at work (unless we're binge-watching Netflix), so we must take the time to find shoes to best support our feet and keep them comfortable. Shoes come in so many styles and sizes, and it's tricky finding your dream pair, so we're here to help. Shoe Pursuits has got some of the great shoes that can show you the best supportive shoes with style and comfortable feet.
To guarantee those sleek leather boots still fit when you get home, here is a guide to finding the best shoes for your feet.
Tips to Find the Best Shoes for You
There is plenty of advice to follow as you shop for shoes. Use these tips to help you maximize your shoe-buying experience and bring you a step closer to your best budget running shoes.
Meet Your Feet
The most important thing is to know your foot type. Everyone's feet are unique and knowing your foot style (e.g. if it has a low arch) will make your search so much easier. One way to 'get to know' your feet is by doing the "wet test" where you wet your foot, step on a piece of brown paper, and trace your footprint.
Observe the footprint to understand what type of shoes to buy. For example, if the sole of your foot has little to no curve on the inside, then you have low arches or flat feet, and your feet roll inward. You should then find a shoe with a motion-control feature and maximum support to prevent extra wear on your shoe.
Or you may have a neutral arch where your footprint has a distinct curve along the inside, bringing extra wear to your shoe. You should then find shoes that provide the perfect mix of cushioning and support.
Maximize Your Time at the Store
Before you learn how to buy the best shoes for your feet, remember to bring the same socks you plan to wear with the shoes. Also, you should wait until the afternoon to shop as your feet expand during the day and may swell in hot weather.
Once you're at the store, measure both feet and go with the larger or wider foot's size. Remember that sizes vary from manufacturer to another so even if the shoe box states they're smaller, go with whatever is most comfortable for your feet.
As you walk around the store, decide whether the heels are snug or loose. Despite popular belief, breaking in shoes is a myth, and both walking or running shoes should feel comfortable straight away.
Don't be embarrassed to examine the soles. Ask yourself:
Do these offer good enough support?
Will the soles cushion against impact?
Are they sturdy enough to offer protection from sharp objects?
It's tempting to use the same pair of sneakers for every sport, but every activity requires different qualities from your shoes. For example, walking shoes are stiffer, whereas running shoes are more flexible and cushioned to withstand the impact. So if you do both, get a pair of each.
Also, never over or underpay for shoes. Forking out $50 – $80 for premium running shoes can sting, but it is far more effective than buying a pair of $15 that will wear and won't provide your feet with the same support.
Working Out the Right Measurements
The general rule says there should be a 3/8 – 1/2 inch between the front of your big toe and the end of the shoe. The heel should have a snug fit and not slip when you walk. The part of the shoe that covers the top of your foot should be secure and not too tight anywhere. As for running shoes, you should be able to wiggle all your toes to ensure they are comfortable.
Trying to find the best sandals for your feet? Understand that the right sandals can:
Reduce pressure on your feet
Allow your feet to breathe
Be practical
There are many great choices out there like these products for comfortable but stylish shoes.
Walking Considerations
There are two tests you can use to determine whether you're buying the right size. You should try:
Walking down an incline: As you descend an incline stomp and scuff your feet. Presuming you've laced the shoes tightly, they shouldn't let you move far forward.
Walking uphill on stairs: Once the shoes have passed the first test, try them out on some stairs. Walk up several flights, two stairs at a time, and focus on whether your heels are moving around.
If they are lifting over 1/8 of an inch off your insoles, they're not for you. Shoes that do this result in sore blisters, making it harder for you to walk.
Now You've Got the Best Shoes, Start Walkin'!
Finding the best shoes can take a while but the wait will be worth it. Whether you're searching for sandals or running shoes, it's essential that you feel 100% comfortable straightaway as breaking in is only a myth. Ask the store assistant to measure your feet as you'll get a better idea of what size you are and always go with the bigger size to avoid discomfort.
If you've got any tips on finding your dream shoes, please comment below.