Do you like to make your own bath products? It is not hard to do and you get to control what ingredients are used. Fizz Boom Bath! by Isabel and Caroline Bercaw, is my go to book to help me learn how to make everything from fizzers to scrubs, masks to soaps, bubble bars to shower melt. Fizz Boom Bath! is your how-to source on all things bath-time beauty.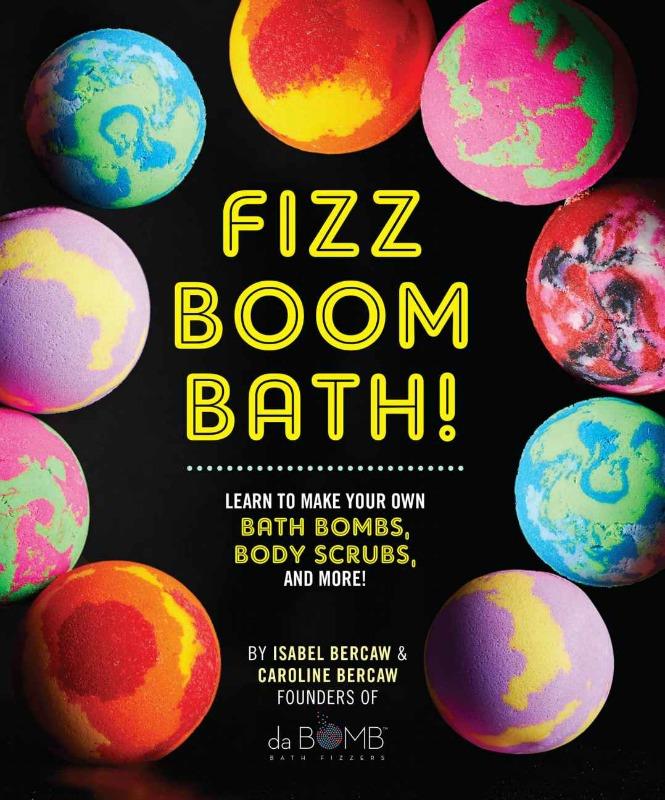 About Fizz Boom Bath!
Sisterpreneurs" Isabel and Caroline Bercaw take you step-by-step through creating natural, homemade bath treats – and their fun recipes, like Color-Changing Birthday Bombs, Geode Bombs, and Strawberry Fields Face Scrub, make crafting the treats almost as much fun as using them in Fizz Boom Bath! This book contains 144 pages of colorful beauty recipes to help you relax at home anytime, you want. Why go to the store, when you make these treats for you, your family, and your friends.
Some of the fun bath treats you create include:
"Candy Crush" Bath Bomb
"Meet Me in Tahiti" Bath Bomb
"Green Goodness" Face Mask
"Pump It Up" Volumizing Hair Mask
Specs for Fizz Boom Bath!
Format: Hardback, 144 Pages
ISBN: 9781631064623
Size: 6.69 in x 8.86 in / 169.93 mm x 225.04 mm
Published: August 7, 2018
Retails for $22.00 / £13.00
"Sisterpreneurs"
"Growing up in Minneapolis, Isabel and Caroline Bercaw always loved using fizzing bath bombs. So much so that they decided to make some of their own. Their parents picked up $25 works of ingredients to make homemade bath bombs as a science experiment. They decided to create their own line of bath bombs that contain a fun surprise in the middle. After successfully launching the da Bomb Bath Fizzers at an art fair, they now run a multimillion dollar business selling over 500,000 bath bombs with 150 employees with their mom as CEO and their dad as CFO/COO. The da Bomb Bath Fizzers are sold in more than 7,000 store in all 50 states.
Isabel and Caroline are still full time high school students and even compete on their high school track team.
Do you like to make your own bath and body recipes? If so, what do you make? I cannot wait to hear all about them.
Connect with Quarto Knows: Site | Facebook | Twitter | Instagram