Charleston's culinary scene is booming, but the food isn't the only thing worth tasting in the Holy City. If you haven't tried one of the region's handcrafted cocktails, then you haven't truly experienced everything the Lowcountry has to offer.
We've come a long way from our Prohibition days. Today, Charleston's cocktail culture is thriving, and folks here have gotten particularly creative with their liquors and ingredients.
The results have been fantastic, to say the least. Charleston's cocktail menus have only gotten better over the years, and there is now a craft libation for everyone in the Holy City.
A Brief History of Charleston's Cocktail Culture
Ships have been bringing brandy, rum, and Madeira to South Carolina's coast for over 300 years, giving Charleston plenty of time to perfect the art of making delicious cocktails. In fact, wealthy city residents and merchants were so infatuated with the fortified wine, Madeira, that Charleston became known as the most consuming capital in America.
In the 18th and 19th centuries, the cocktail culture was going strong in Charleston, boosted by the presence of Jerry Thomas, known as the King of the Cocktail in the 1800s.
Unfortunately, the popularity of cocktails would take a hit during Prohibition in the 1920s. Backwoods distilling—AKA, moonshine—became prominent in South Carolina. Traditions were passed down through generations and, as many know, tradition runs deep in the South.
After Prohibition ended, Charleston still had trouble reviving its cocktail culture, due to its infamous mini-bottle law in 1973. Once this was repealed in 2005, bartenders were free from restrictions on their creativity, and Charleston's cocktail scene was alive once more.
Must-Try Cocktails in the Lowcountry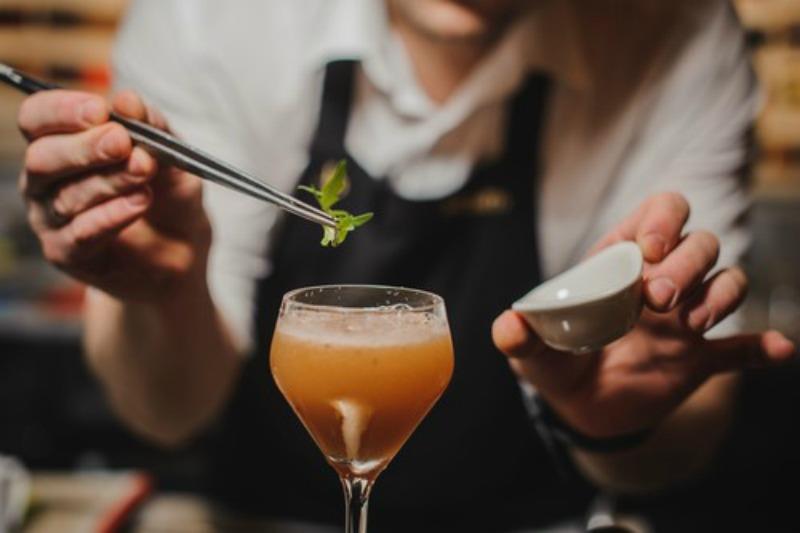 Today, Charleston's cocktail culture is thriving and has become a mecca for talented mixologists. Mixed drinks are a dime a dozen in the Holy City, but there are some handcrafted cocktails that stand above the rest. Downtown Charleston is peppered with swanky bars with strong cocktail programs.
Ready to try some of the best handcrafted cocktails in the Lowcountry? Here are a few must-visit establishments for your next visit to Charleston.
The Gin Joint
What to order: "Bartender's Choice"
For gin-lovers, the Gin Joint is a must. Featuring over 70 types of gin, this establishment was one of the first craft cocktail bars to open in Charleston.
Upon its opening in 2010, the bar banned vodka in honor of its pre-Prohibition era roots. Although some people were originally disgruntled over the choice, it forces the more adventurous patrons to try new cocktails and expand their repertoire.
If you can't decide on what to order, The Gin Joint has a selection called "Bartender's Choice," where you can choose from a list of adjectives like "fizzy," "unusual," or "sweet," and the bartender will use your picks to mix a custom-made creation just for you.
Rarebit
What to order: Moscow Mule
With their shiny copper mugs, few drinks are more Instagram-worthy than the Moscow Mule. If you're a big fan of this classic drink, you will want to stop by Rarebit. Located on King Street, Rarebit serves fantastic Moscow Mules (their signature drink) with house-made gingerbeer and limeade.
The Belmont
What to order: Anything on the menu
The Belmont is a solid choice for any trip to Charleston. This swanky bar and lounge is known for its black-and-white movie projections on the back wall, the laid-back vibe, and its creative cocktails.
The bartenders here know what they're doing, making this craft cocktail bar one of the best in the city. Even if you typically enjoy your drinks neat, be a little adventurous and order a true cocktail here. The Belmont staff is incredibly experienced, and they are happy to demonstrate their superb mixology skills if you give it the chance.
The Belmont's delicious snack boards featuring a variety of meat, breads, and cheeses shouldn't be missed, either!
The Bar at Husk
What to order: Charleston Light Dragoon's Punch
Located on Queen Street in the historic French Quarter neighborhood, Husk Restaurant is one of Charleston's trendiest restaurants. However, The Bar at Husk has made a name for itself, thanks to its ever-changing cocktail menu and its cozy interior.
The Bar at Husk is a separate building next door to the restaurant. Originally the free-standing kitchen for the stately mansion, you can sit upstairs or downstairs as you sip on cocktails made by masterful mixologists. Unsurprisingly, its food rivals that of the main restaurant, making it particularly appealing to those looking for some delicious bar food to pair with cocktails.
Proof
What to order: The Knuckleball with pickled peanuts
After enjoying a fine dining experience in Upper King Street, make your way to Proof, a cozy, yet refined craft cocktail bar that will satisfy everyone's unique tastes.
Whether you consider yourself a cocktail aficionado or you're the type of person who enjoys simple drinks, Proof delivers a well-made drink in a no-frills setting. Plus, this is a great place to take friends who aren't into cocktails because of its excellent craft beers and artisan wine program. The vibe here is always low-key and sophisticated, but the weeknights are a good time to go if you want a quieter setting.
The Cocktail Club
What to order: Double Standard
Coming from a place called "The Cocktail Club," you would hope that this establishment would be on top of its cocktail game. Fortunately, the Cocktail Club doesn't disappoint.
With its moody lighting and rustic architecture, this bar is romantic on slower weeknights and the place to be on the weekends. It also has a back patio where you can watch the stars as you sip on a Double Standard, the bar's signature drink made with serrano-infused gin, cucumber-infused vodka, muddled ginger root, lime juice, cilantro, and celery bitters.
Conclusion
Take a trip into the South Carolina Lowcountry, and you will be met with delicious cuisine at every turn. However, you can't leave the region without trying a handcrafted cocktail from one of Charleston's most respectable establishments.
With each savory sip, you are getting a taste of Lowcountry history. From unique and modern to traditional cocktails, there is a handcrafted drink in Charleston that is guaranteed to strike your fancy.
Traci Magnus was raised on the Charleston Coast and attended the College of Charleston before heading to the Big Apple. She returned to Charleston in 2006, along with her husband Glenn and their son Max. She joined the Dunes Properties team in early 2008 as Director of Marketing.