I remember one winter when we experienced a huge snowstorm. It lasted for days and everyone was baffled. Being in South Carolina, this is not part of the regular seasonal forecast. Schools were closed and roads were blocked. We took action to ensure our family stayed safe.
Emergencies are unknown and unexpected. It's always best to have a plan that your entire family agrees on and understands.
To start, it's always best to have key items around the house for emergency situations. It's important that they're easy to access for every family member (unless they are too young). Here are a few of my tips:
Emergency Items That Every Family Should Have in Their Home
First-Aid Kit
With two kids, minor injuries are bound to happen. Whether it's a bad scratch or scrape, a first-aid kit has helped us tremendously over the years.
Gallons of Water
In our basement, we make sure to keep gallons of water (and to replace it every year) for emergency situations. It has helped in times when the city water needed cleaning. It even came in handy when our pipe burst and we had to turn off the water until the plumber arrived.
Canned Vegetables and Beans
We like to keep canned goods for times when there are power outages. If a power outage lasts for days, canned veggies can help even after when the power comes back on (your food in your fridge will likely be spoiled). The canned goods will keep you going until you go out and purchase more groceries.
A Strong, Durable Flashlight
When the power goes out, the first thing you search for is a light source. To keep our family safe, we try and keep at least two flashlights on every floor. The best plan of action is to always keep them in the same place (when not in use) so that you know where to reach for them as soon as you need them.
When it comes to flashlights, we go for extra tough, extra durable, and extra reliable. What good is a flashlight if it doesn't work when you need it to?
Recently, we discovered SureFire Illumination and what a discovery it was! SureFire has been designing and manufacturing illumination products for three decades. Because they are known for their dependability, reliability, and durability, their products were mainly used for the army and military.
Imagine having such a trustworthy product in your home.
Now, it's a possibility. SureFire Illumination's flashlights are being sold to the home consumer. When I found this out, I was ecstatic. If I could equip my home with something so durable that it was even used in the military, I was all up for it.
Normally retailing at &79.99, SureFire is offering their quality flashlight for $39.99 (plus shipping). Get yours while supplies last! Please use promo code kelly in order to get the discounted price.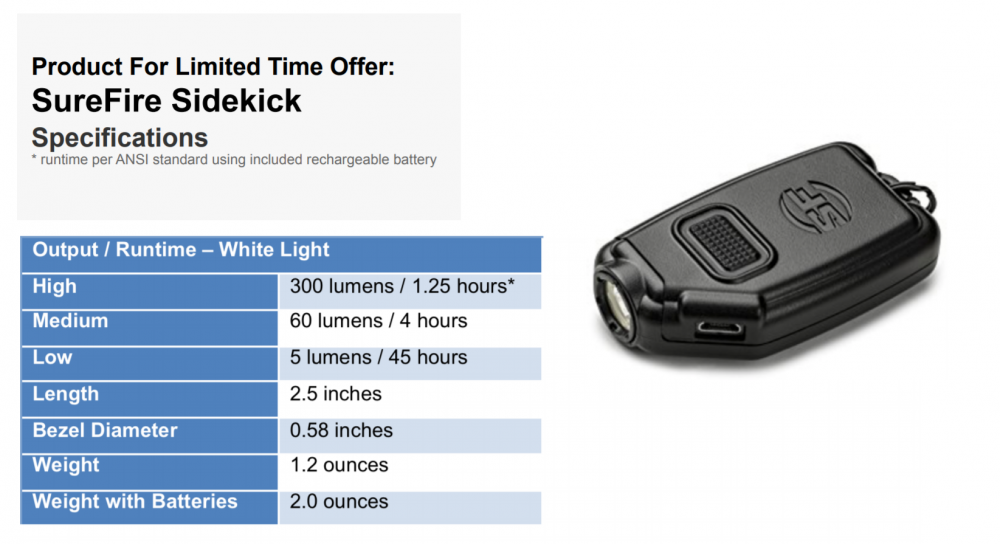 What emergency items do you keep in your home?