After thinking long and hard, you've decided that you're ready to take the next big step in your relationship. You want to get down on one knee and ask your partner one of the most important questions you'll ever say in your life. But wait, have you found the perfect ring to propose with?
An engagement ring is more than just a piece of jewelry to show off to your friends. It's a symbol of love and commitment between two people. The ring heralds a new chapter in your lives as a couple. To some level, it also shows how well you know your partner and their preferences. That's why you can't take this task lightly.
There are all kinds of engagement rings with different gemstones, metals, band styles, stone cuts. With so many options to choose from, finding that one perfect ring can get overwhelming. To help you, here is a list of budget-friendly engagement rings that your partner won't be able to resist.
A graceful combination of subtle and sophisticated, this ring has a 14K yellow gold band with a polished finish. In the middle is a 0.35-carat round-cut diamond, with a very good cut rating.
The band is lined with sixteen smaller diamonds, weighing a total of 0.25 carats. The understated elegance of this rings makes it perfect for the partner who loves simple jewelry. Buy this ring for $734.99.
Dramatic and eye-catching, the centerpiece is 0.35-carat pear-cut diamond, surrounded by smaller round-cut diamonds, weighing a total of 0.20 carats. The precious stones are mounted on a beautifully polished 14K yellow-gold band. The combination of the attractive centerpiece and the simple band gives this ring a timeless elegance. Get this lovely piece for $823.99.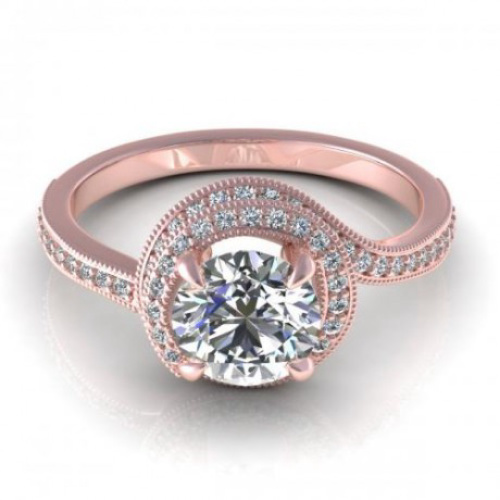 A special ring for the one you want to spend the rest of your life with, this ring has a beautiful 14K rose-gold band, with sixty-one diamonds mounted in the center and along the sides. The middle stone is a 0.35-carat round-cut diamond, which shines brilliantly under good lighting conditions.
Surrounding the center and lining the sides are sixty smaller diamonds, weighing a total of 0.25 carat. Get this gorgeously intricate ring for $907.99.
This seemingly simple 14K white-gold ring is graced with sixty-one high-quality diamonds. In the middle, the 0.35-carat cushion-cut diamond will reflect a great amount of light because of the near-ideal cut. The 0.50-carat diamonds line the side of the band, increasing the overall brilliance of the ring when worn under normal lighting conditions. Get this luminous ring for $1,019.99.
This delicate ring resembles a beautiful lotus, with its 0.35-carat centerpiece, petal-like small diamonds around the center. The band is made from 14K rose gold, polished to perfection and lined with four round-cut diamonds, weighing 0.20 carats. A symbol of pure love and devotion, this masterpiece is available for $1,159.99.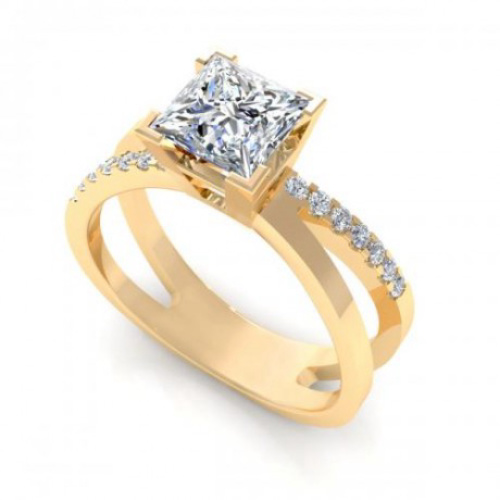 The 14K yellow-gold ring band forms an infinity symbol. With fifteen diamonds at the center and along the sides, this ring communicates everlasting love. The centerpiece is a magnificent 0.55-carat princess-cut diamond, with a near-perfect cut rating, while the smaller stones have a round cut and weigh 0.25 carats in total. This meaningful ring is priced at $1,234.99.
For the king or queen of your heart, this regal ring is made from 14-carat polished white gold, mounted with thirteen sparkling diamonds. The biggest diamond is a princess cut, weighing 0.35 carats. The very-good cut means it reflects the majority of the light that comes into the diamond, resulting in brilliant sparkles.
The two side stones, sandwiching the centerpiece, weigh a total of 0.70 carats, while the smaller stones along the band weigh 0.15 carats. This pristine ring is available for $1,259.99.
Platinum is a favorite choice for engagements rings. It's prized for its hardness, uncommonness, and pure color. When treated well, the white sheen of a platinum ring never fades or gets tainted over time. This magnificent ring symbolizes your genuine and deep love for your partner. It's made from polished platinum with twenty-seven diamonds mounted in the middle and on the sides.
The centerpiece is an elegant 1-carat round-cut diamond, with a very good rating for the cut. Along the band are twenty-six round-cut diamonds, weighing 0.35 carats in total. Get this majestic ring for $3,858.99.
Put a Ring on It
Giving your partner an engagement ring is an incredibly symbolic and important gesture, but it's not what the proposal is all about. Don't delay your proposal just because you can't afford a bigger and better ring.
The carat is a unit to measure a diamond. It's not meant to quantify your love for your partner. When you know both of you are ready, put a ring on it, or somebody else will.