Easter is coming up. Kids all love to get candy, toys, books, and plush animals in their Easter baskets. Although, those gifts are great, there are other gifts that you can give that mean a little more. Be Robin Hood has bracelets, tee shirts, hats, necklaces, and many other items that that have inspirational message on them.
About Be Robin Hood
Ricky Marton, founder, and Adam Hansjons, co-founder, are the two men behind this wonderful brand. They believe that "anyone can be a hero to the people who are less fortunate". Be Robin Hood provides and promotes products from reputable clothing brands including MudLOVE, Sole Feet, Tribe of Dreamers, etc. who donate part of their profit to those in need. Each of these brands have causes that they support. Some of those causes include Children in Need, Providing Water, Help to Haiti, Empowering Woman, and many others.
Products
Their products range from men, woman, and accessories (hats, shoes, scarves, bags, etc). I received a bracelet, a tee shirt, and some stickers. The Element T shirt is unisex and extremely comfortable shirt. It is one of four in their element collection! Everything on their site goes back to causes all around the world! This T shirt is lightweight. I love the message on the back "We may walk the same earth, but I see an entirely different world".
The red bracelet, makes an easy and simple gift to slide into an Easter basket, states "Change A Life". Be Robin Hood makes it easy to "Change A Life", because they donate 10% of their profit to different charities based off of the customer's choosing. Once you select an item you want to purchase, at checkout, you have a choice to select between three different charities to help or you can choose no preference.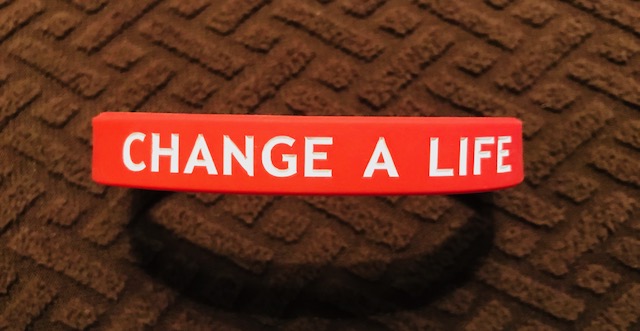 In addition, I received two stickers that are great to put on your car or anywhere that you would like. These stickers are great ways to let others know how they can also "Change A Life". Every little bit helps to make a difference in another persons life.
Connect with Be Robin Hood: Site | Facebook | Twitter | Instagram