Have you ever wanted to learn how to draw, but didn't know how to go about learning in the most effective manner? Or, maybe you would like assistance in improving your drawing skills? Classes at a school can be expensive and can require quite a bit of time. Well, how about learning through books? The Quarto Group has the following 4 very informative and fun books to provide you with hours of practice and educational artistic information.
Drawing Wild Animals
The first book is fairly new (published May 8, 2018) and is titled "Drawing Wild Animals: Essential Techniques And Fascinating Facts For The Curious Artist" (144 pages, ISBN: 9781631593499) by Oana Befort and Maggie Reinbold. This book has 200 illustrations and step-by-step directions. It will guide you in learning how to draw beautiful and detailed animals, namely, mammals, amphibians, and reptiles. Oana Befort is a graphic artist and Ms. Reinbold is a director at the San Diego Zoo Global. They have created this unique and wonderful art book that incorporates their talent and expertise.
Throughout the book the reader will find fascinating and educational information about the various animal subjects, enabling the reader to truly understand what he or she is drawing. It's a book that many will enjoy and benefit from. This softback book is available here for $24.99.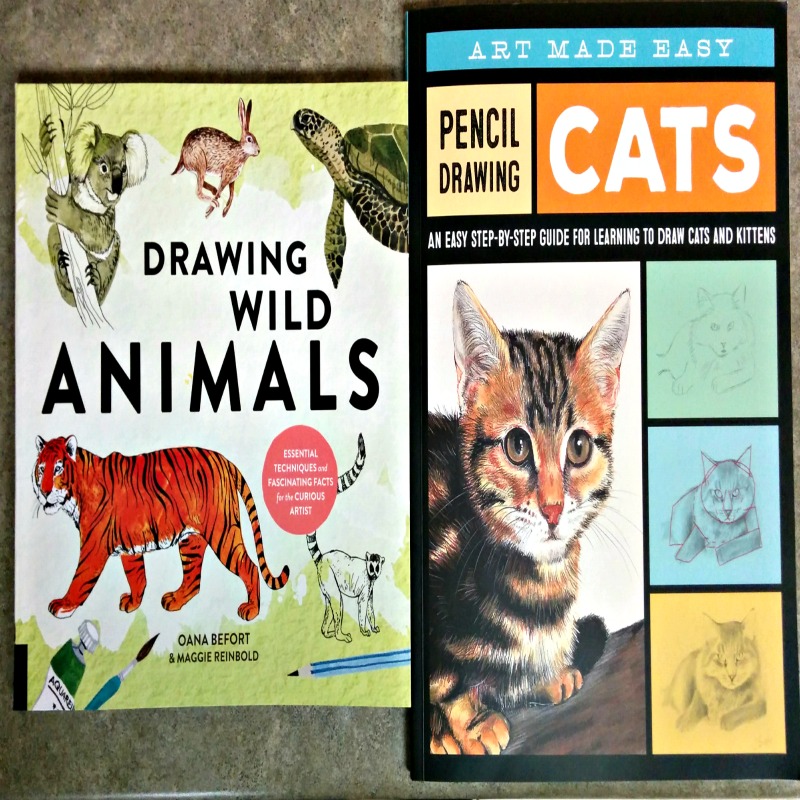 Drawing Cats With Pencil
The next book is "Pencil Drawing: Cats – An Easy Step-By-Step Guide For Learning To Draw Cats And Kittens," by Anja Dahl. This paperback (112 pages, ISBN: 9781633224834) has 249 photos and illustrations of these adorable creatures. This book discusses tools and materials, the anatomy of the cat, various drawing techniques, step-by-step projects, and more. It even provides a section about specific breeds of cats, such as the Siamese and Bengal. The author, Anja Dahl, has experience as a painter, sculptor, graphic designer, caricature artist, and illustrator. The artist shows how versatile a pencil can be in terms of creating art in different ways. This book is available on the Quarto website for $18.99.
Drawing Portraits
The third book is "Pocket Art: Portrait Drawing – The Quick Guide To Mastering Technique And Style" (ISBN: 9781631594694, 112 pages), which is by Miss Led (a.k.a. Joanna Henly) and was published April 24, 2018. Miss Led is an artist, illustrator and art director with vast experience. This book does a great job of teaching you how to draw various faces and their features. The book helps you to understand the face, its parts and expressions, skin tones, and hair. Miss Led also shows you that portraits can be simple and still powerful. And, they can also be very detailed—each portrait is unique and beautiful in its own way.
After reading through this book, drawing a portrait doesn't seem so intimidating to me! This book is available in softback for $17.99. And, it is "Pocket Art," so the book is the perfect size for a budding artist to carry around and reference when out and about! This is also the first book in the new Pocket Art series.
Drawing Fundamentals
The final book, "Drawing School Fundamentals For The Beginner: A Comprehensive Drawing Course," by Jim Dowdalls, is a perfect book for the artist wanting to learn the fundamentals, including perspective, composition, color, and many other subjects. It's a very informative book. What I really like about this book is that it really does a great job of helping the reader learn the important skills an artist should have under his or her belt. The author assigns homework and practice exercises to help the reader practice what he or she has learned. It's like taking a drawing class from a college professor in the comfort of your own home! This book is a hardcover (240 pages, ISBN: 9781633224865) and is available for $24.95. All prices are subject to change.
The above are great books to help you on your way to mastering beginner (and I'd say intermediate, but that's my opinion) artistic skills. If you have an artist in your life that is wanting to learn, these books offer a wonderful place to start!
Connect with Quarto: Website | Facebook | Twitter | Instagram | Pinterest