I love, love, love soap. I love it when I find a good soap that smells so good. Soap can be so relaxing as you lather it up and the scent emanates from the bubbles while you shower. Soap can also be rejuvenating, as you wash away the dirt and are left to feel clean and refreshed after the soap does its job. Well, let me introduce you to DIRTYBIRD ENERGY soaps and you'll experience all the good that soap can do (and probably more)!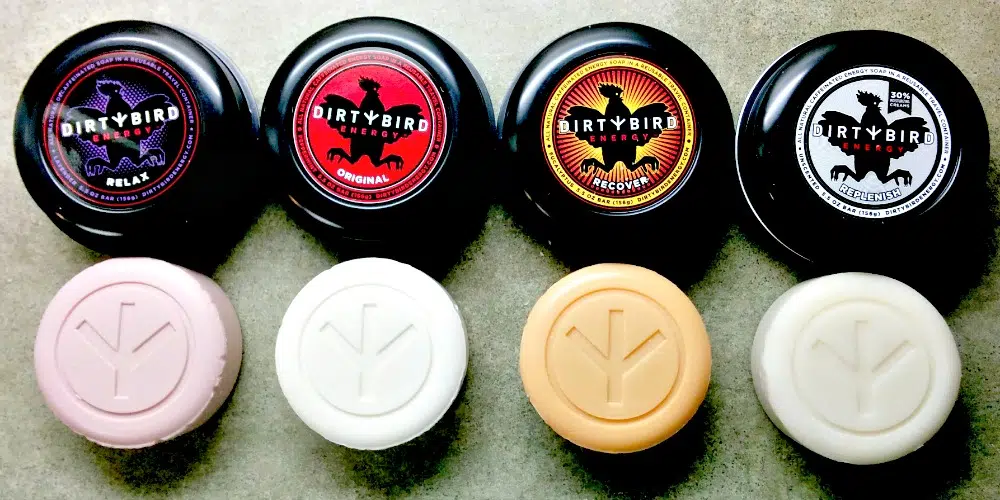 Let me start off by saying DIRTYBIRD ENERGY soaps smell amazing! Each DIRTYBIRD bar is special in its own right, which you shall soon understand.
DIRTYBIRD ENERGY Bars For A Boost
Their DIRTYBIRD ENERGY bars in the ORIGINAL, RECOVER and REPLENISH varieties have caffeine infused in them (to help give you a boost to your day). What does the caffeine do? According to their website's FAQs: "When absorbed into the skin, it (caffeine) gives your body a (little) boost of energy and antioxidants, helps to smooth and tighten the appearance of your skin, (and encourages) improved circulation!" I had no idea, but very cool!
The ORIGINAL bar contains moisturizers, caffeine, and peppermint. It's meant to give you a boost and help you be your best, while it also moisturizes your skin to help you feel great in your own body.
The RECOVER bar is great for helping your body recover after a hard workout (or a hard day). According to their website, it is "infused with Arnica, Eucalyptus and Rosemary extracts, this trifecta of body treatments aims to encourage faster healing of bumps, bruises and inflammation." Wow, I've never seen a soap like this!
The REPLENISH bar comes with 30% natural moisturizers made with natural cocoa and shea butters and is meant to refresh and restore moisture to your skin (just as its name implies).
DIRTYBIRD RELAX – The Decaf Option
The DIRTYBIRD RELAX bar is a decaf bar for when you need that calm, peaceful time to yourself while bathing or washing. This one contains lavender and chamomile—two scents that are great for helping one relax.
Other Things To Know About This Special Soap
DIRTYBIRD ENERGY has taken soap to a whole other level. All of the bars smell wonderful. I hope to just keep them in my bathroom to provide a wonderful aroma before I use them up! I do recommend you read their FAQs. Since these bars contain some interesting ingredients, it is best to follow their precautions.
Easter is coming up and these bars would make a wonderful gift for someone in your life (or for yourself). The soap is for men and women, active or not. You can even create a customizable monthly subscription or purchase multi-bar packs to make the gift extra special.
All of the DIRTYBIRD soaps are made in the United States of America, so you get that great American quality. Their soaps are free of parabens and sulfates. And they come in reusable containers, which makes them easy to pack and take along with you, whether to the gym or on a trip.
Connect with DIRTYBIRD ENERGY:
Website | Facebook | Twitter | Instagram