It's so true that bacon makes everything better. With these bacon stuffed mushrooms, you'll never even know that you're enjoying a stuffed mushroom recipe. The creamy mixture of chive cream cheese with bacon, parm cheese and minced shallots your whole family will be begging for more. It's easy enough to make these bacon stuffed mushrooms, but do set aside some time to prep, probably about half an hour as you do need to place the ingredients inside of your mushrooms.
It's not always an easy process to stuff ingredients into a mushroom. Once you've finished prepping your bacon stuffed mushrooms you can cook them in the oven for about 10-20 minutes and enjoy a tasty side or appetizer of delicious stuffed mushrooms.
Delicious Bacon Stuffed Mushrooms
Ingredients:
8 oz of Chive Cream Cheese
4 strips of bacon
2 tbsp fresh rosemary
¾ cup parm cheese
⅛ cup minced shallots
1 large package of baby Bella mushrooms (1.5-2.5lbs)
1 tsp salt
1 tsp pepper
Directions:
Preheat oven to 400 (for bacon and mushrooms).
Place bacon on a baking sheet
and bake for roughly 15-20 minutes or until done.
While bacon is cooking, prepare the mushrooms by removing the stems and removing gills from the mushroom.
Once bacon is ready, remove the bacon and place on a paper towel to soak up excess grease. Chop when cooled.
Next, mince the shallots and rosemary.
Add cream cheese, rosemary, shallots, ½ cup of parmesan, salt, and pepper to your mixing bowl
. Mix thoroughly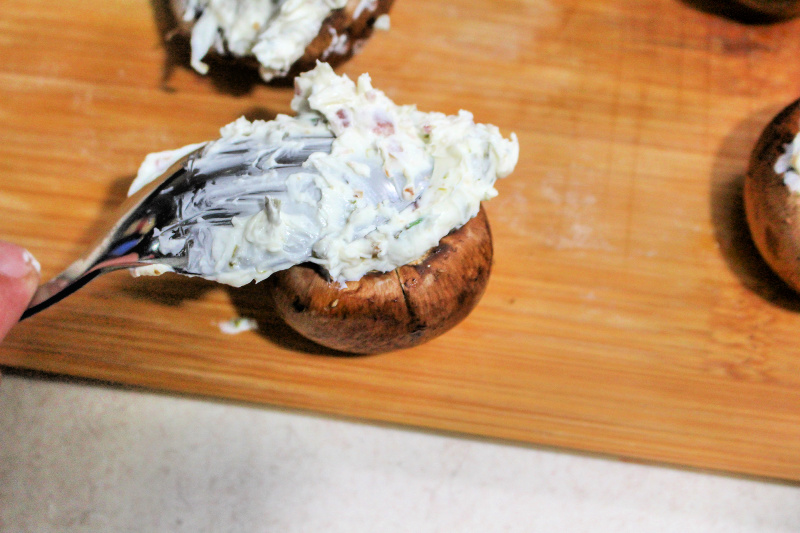 Use a spoon and scoop out a dollop of cheese mixture and add to the inside of the mushroom.
Top with remaining parmesan and place in the oven for 10-20 mins.
Once the cheese is brown on top, remove the mushrooms and add garnish if desired.
Serve and Enjoy