There is nothing like eating smoked food. The taste of smoked veggies is my favorite because it's absolutely delectable and the texture is amazing! In my house, we also love eating smoked salmon! Well, if smoked foods appeal to your taste or that of someone you know, I have the perfect Christmas gift: the Cooking Gift Set Co.'s Wood Chip Smoking Grill Gift Set! This is a perfect gift for BBQ fans, those that like to grill, and foodies!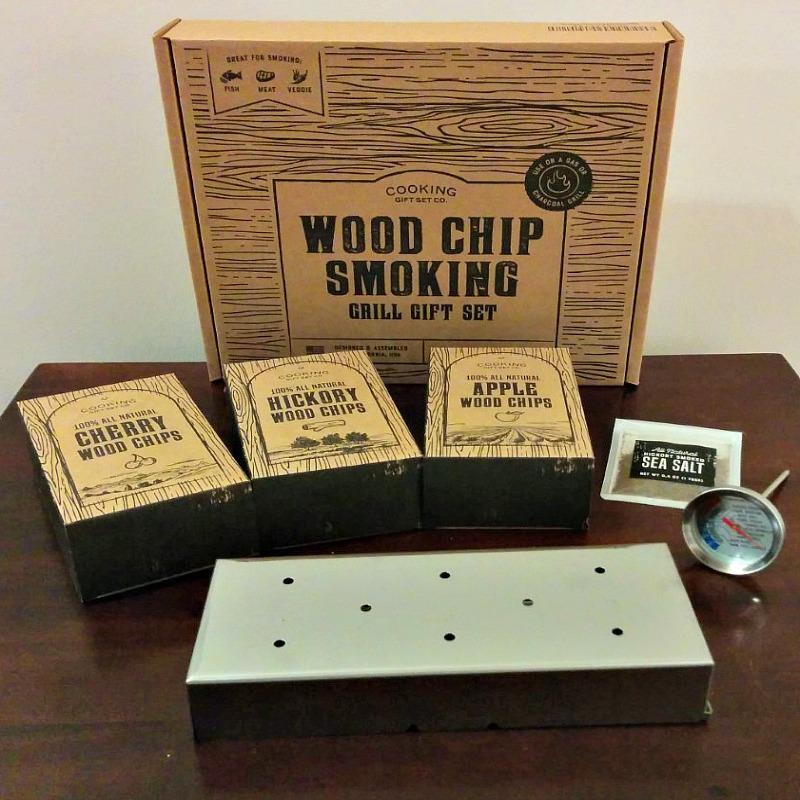 What's Included In The Gift Set?
The Gift Set contains 6 items:
Apple Wood Chips,
Cherry Wood Chips,
Hickory Wood Chips,
a Stainless Steel Smoker Box,
one specialty meat thermometer, and
Kosher-certified, hickory-smoked sea salt.
With this kit you can infuse your meat, fish, or veggies with the delicious flavors of cherry, hickory, or apple wood. And, it doesn't take all day! It's actually very easy and gives one an excuse to sit on the deck with a drink and take in the mouth-watering aromas! Along with the easy-to-follow, step-by-step instructions comes illustrations, recommended pairings, some delicious recipe suggestions, and a brief troubleshooting guide.
Even though we've already had some snow, I'm ready to break out the grill again and try this Wood Chip Smoking Grill Gift Set. I'd love to grill beef with the hickory wood chips. Or, smoke some salmon with the cherry wood chips and serve with an arugula salad and farro!
The website says that each bag provides about 2 hours of smoking time. This means that you could get quite a bit of use with just one kit! And, there's nothing like grilling and relaxing at home with family and friends and this kit gives you the excuse to do just that!
Where To Purchase
The Wood Chip Smoking Grill Gift Set retails for $59.95 on the Cooking Gift Set Co. website. The people that I know who love to grill would absolutely love to receive this as a gift! And, while you're at it, pick one up for yourself! You may find that after smoking your food with wood chips, you'll never go back to just plain grilling.
Connect with the Cooking Gift Set Co.: Website | Facebook | Pinterest | Instagram