As anyone with a well-equipped garden will tell you, teak garden furniture is some of the best on the market. What makes us make such a statement, you ask? Well, let us explain. Whether you're considering teak tables, or maybe a tree bench or two, teak wood furniture is durable, lasting and you certainly don't have to give up any beauty either. Here, we're giving you all the reasons you could ever need to pick up a teak bench or two for your garden!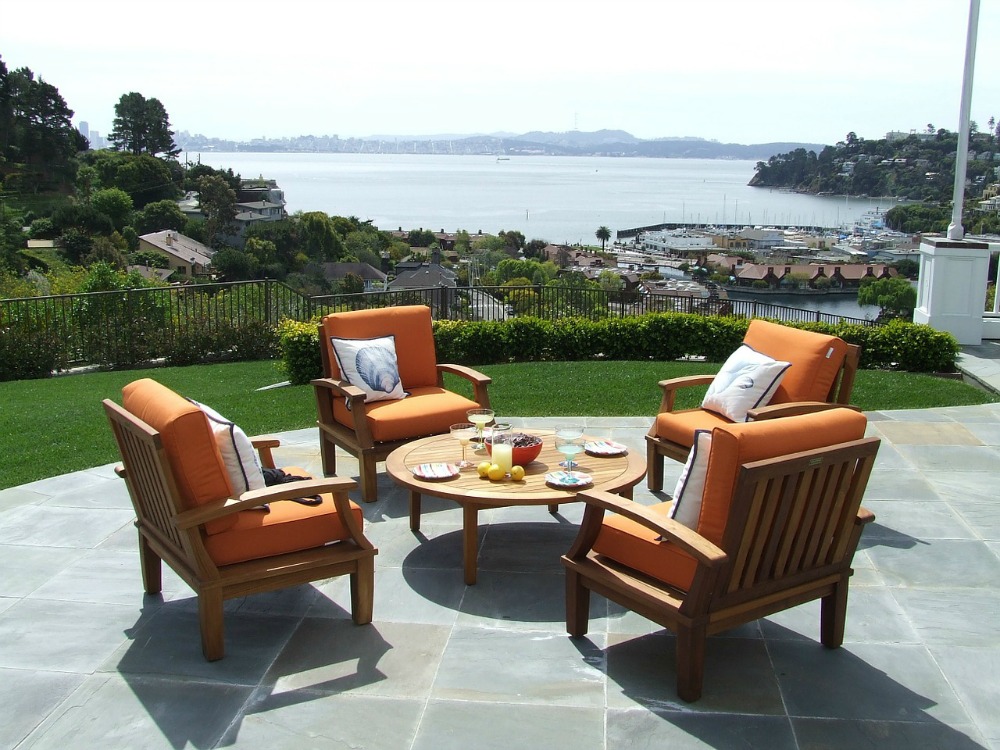 Strength
Teak is a wood, and it's a hardwood at that. The strength and durability of teak is one of the main reasons that it is such a common material in garden furniture, and rightly so. It can withstand all kinds of extremes outdoors, and if you chose to bring the beauty of teak indoors, it could potentially last a lifetime. Rotting is unlikely with the right care, and with good quality teak, you can be sure that your furniture is likely to withstand anything your home or the elements could throw at it!
Beauty
Put quite simply, Teak is one of the most beautiful woods you could hope for when it comes to your garden furniture. The grain of the wood and the unique coloring you can get make this material one of the most popular with garden furniture designers and consumers alike. You're likely to pick up a brand new teak piece in a warm, golden color which can be maintained with indoor use or with specific treatments and oils, or if you prefer, leaving the furniture to the elements can turn your bench an elegant, sophisticated silvery-grey color over time.
Weather-Resistant
If there's one thing you want from your garden furniture, it's weather-resistance without needing to treat it every week or two and teak furniture can provide you with just that. While other materials might warrant needing to rush out into the rain to bring them in and undercover, teak furniture doesn't need that at all! In fact, whether it's hailing, snowing, storming, or is so hot you can barely move, your stunning teak pieces are likely to withstand the elements and stay in great condition the entire time.
Easy Maintenance
There's nothing worse than finishing up your gardening and realizing you need to break out the scrubbing brush and clean the dirt and grass stains off of your garden furniture. With Teak furniture – you guessed it! – this isn't necessary. A quick wipe with a moist cloth will eliminate grime with ease, and the natural oils in the wood will keep it hydrated and looking great even as it ages! There's no need to stain it regularly either unless you wish to keep the warm golden color, as the silvery grey color it turns over time is just as attractive and equally as elegant.
Adaptability
So we've reached our final point, and if we haven't convinced you so far, this is bound to do the trick – Teak furniture is adaptable! It doesn't matter what kind of garden you have, or whether you need a bench to wrap around your tree or to sit inside your conservatory, there'll be a piece out there for everyone. Teak has been used for hundreds of ears for all kinds of uses, from furniture to shipbuilding, so you know you'll have a reliable material on your hands. It's flexibility as an indoor or outdoor material makes it a favorite amongst designers, so you'll have plenty to choose from too! So what are you waiting for?