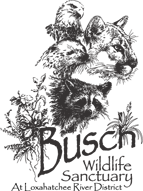 ;
Located on the grounds of the Loxahatchee River District, the partnership between the District and Busch Wildlife Sanctuary dates back to 1997. This District continues its support of this important community and environmental resource through support and expansion of Busch's program and facility.
The Busch Wildlife Sanctuary is a non-profit organization dedicated to the protection and conservation of Florida's wildlife and natural resources. This is run on a lot of love from all the people involved with helping and caring of all these animals. They offer all visitors a chance to see, and learn about the wildlife and their environments.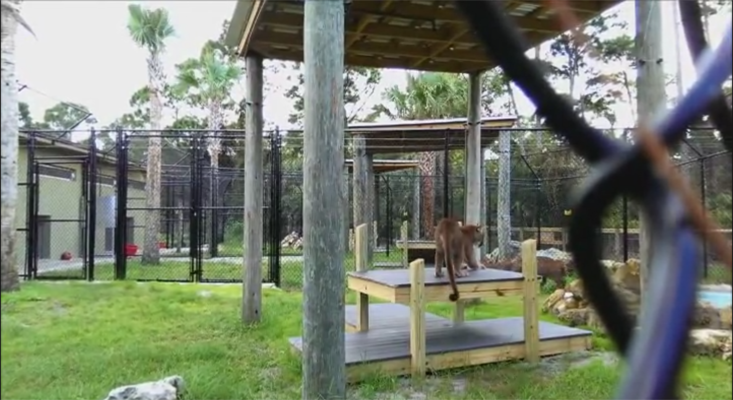 The whole trail is amazing, you set off along the pine flat woods and come in contact with the wildlife habitats, nothing like coming close to an alligator or seeing a barn owl. There was so many animals to see and visit with. This unique refuge combines a nature center with a wildlife hospital.
The animals are well taking care of, and there is so much love given to them. All of the animals here have been either injured, hurt or taken away from people who had them illegally. The main mission is going to try to get them released back into the habitat they came from. But for some that will never happen,they are used to humans and that can be bad for them. So they will enjoy the rest of their lives safe and happy.
All of the beautiful animals that make this home are: Owls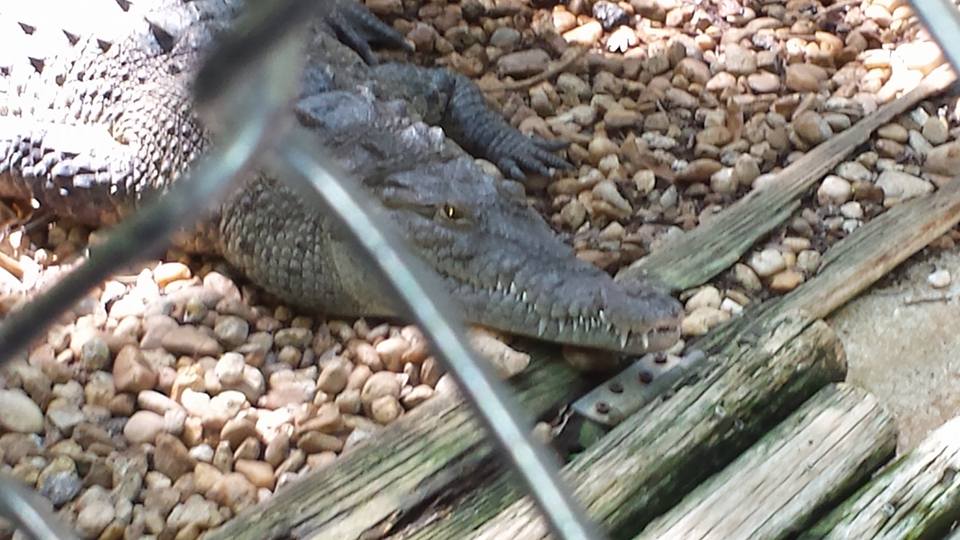 The Busch Wildlife Sanctuary's wildlife rescue and rehabilitation program provides comprehensive medical care to over 5,000 sick, injured, and orphaned wild animals each year. The ultimate goal of the Sanctuary's rehabilitation efforts is to return recovered patients to their natural habitats so they can become an integral part of the environment once again. Nearly 90% of the animals treated at the Sanctuary's wildlife hospital have suffered from some type of human related injury, which include collisions with automobiles, fishing line entanglement, illegal gun shots, electrocutions, poisonings, attacks by dogs and cats, and many more.
Here is just one of the many rescue stories they have shared with us:
For years there have been stories of black panthers prowling the woods and swamps of Florida's wilderness, but there is no official record they exist.
However, the mystery may be over. A black bobcat was captured along the St. Lucie Canal just south of Indiantown, and this just maybe what people have been referring to when they say they saw a "black panther" in the wild in Florida.
A woman recently called the Busch Wildlife Sanctuary because she had seen a "black panther" in her back yard. The cat had killed a pet turkey and she had gotten a good look at the cat.
She described the black cat to be the size of a large Labrador dog. The Sanctuary's nuisance wildlife expert, Deron Hartman, responded to the woman's call for help. He found bobcat sized tracks near the location where she had last seen the cat, but nothing the size of what the woman had described.
Hartman set a live trap to see if the cat could be caught to find out just what was killing the woman's pets. When he returned the next morning, the turkey snatcher turned out to be a melanistic (all black) bobcat. The young bobcat weighed about 20 pounds and its fur was black from head to tail with faint dark spots and one small white patch of fur on the belly.
What zoos refer to as a "black panther" is actually a black jaguar or black leopard. Even though people claim to have seen a black Florida panther, there is no concrete evidence they exist. Florida panthers are really cougars and typically golden tan in color.
There has never ever been a black cougar or a black Florida panther ever found. At least there is no official documentation of them; no pictures, no hides, no skins, no mounts, nothing to prove that there are black Florida panthers. But, still we hear stories of black cats that lurk in the wilds of Florida. Maybe we have found the missing piece of the puzzle and we now know what everyone has been referring to when they say they saw a black Florida panther in the wild. Perhaps they really saw a black bobcat.
There are about 14 confirmed cases of black bobcats that have been recorded in Florida; the first dating back to 1939 when one was captured near the Loxahatchee River by Trapper Nelson.
The recent capture of this black bobcat is more than just a rare find; it can also help bring answers to an old Florida tale about what people thought were black panthers roaming the woods of Florida. The sanctuary will be working with the Florida Fish and Wildlife Conservation Commission to document this case and make sure it becomes part of the official state records. The Sanctuary plans to return the black bobcat to the wild in a safe area away from people where he will be able to find plenty of natural food sources.