Bring A Unique, Yummy Treat to Your Holiday Party – Softer Than Brittle
Do you like the taste of peanut brittle, but not the hard crunch? If you answered yes to that, I agree with you. I love the taste, but it is so darn hard to chew! I have been looking for different treats to take to my family holiday party, and I think I finally found it. Softer Than Brittle is a flaky, somewhat soft, peanut buttery goodness treat that I have fallen in love with. They come in small squares and there are 4 varieties to choose from.
Softer Than Brittle comes from a 60-year-old family recipe, so you know you are getting quality. This isn't the same old brittle that your grandma used to eat. The obvious reason would be it is softer, but it is also much better for you. This wonderful recipe (all 4 varieties) have no preservatives, cholesterol, dairy, or hydrogenated oil and it is even vegan. The 4 yummy varieties are Peanut, Cashew, Pecan, and Almond. The almond flavor happens to be my favorite!
Basic Ingredients
One of the great things about Softer Than Brittle are the basic ingredients. Instead of a long list of chemicals and preservatives that you can't pronounce, there are literally 6 to 7 ingredients in each bag. For example, the Peanut flavor has peanuts, corn syrup, sugar, baking soda, natural flavor, and sea salt. That is it! There are no hidden, scary ingredients that you don't know about. What you see is what you get. Obviously, these would be great for anyone with allergies to certain products (not peanuts!).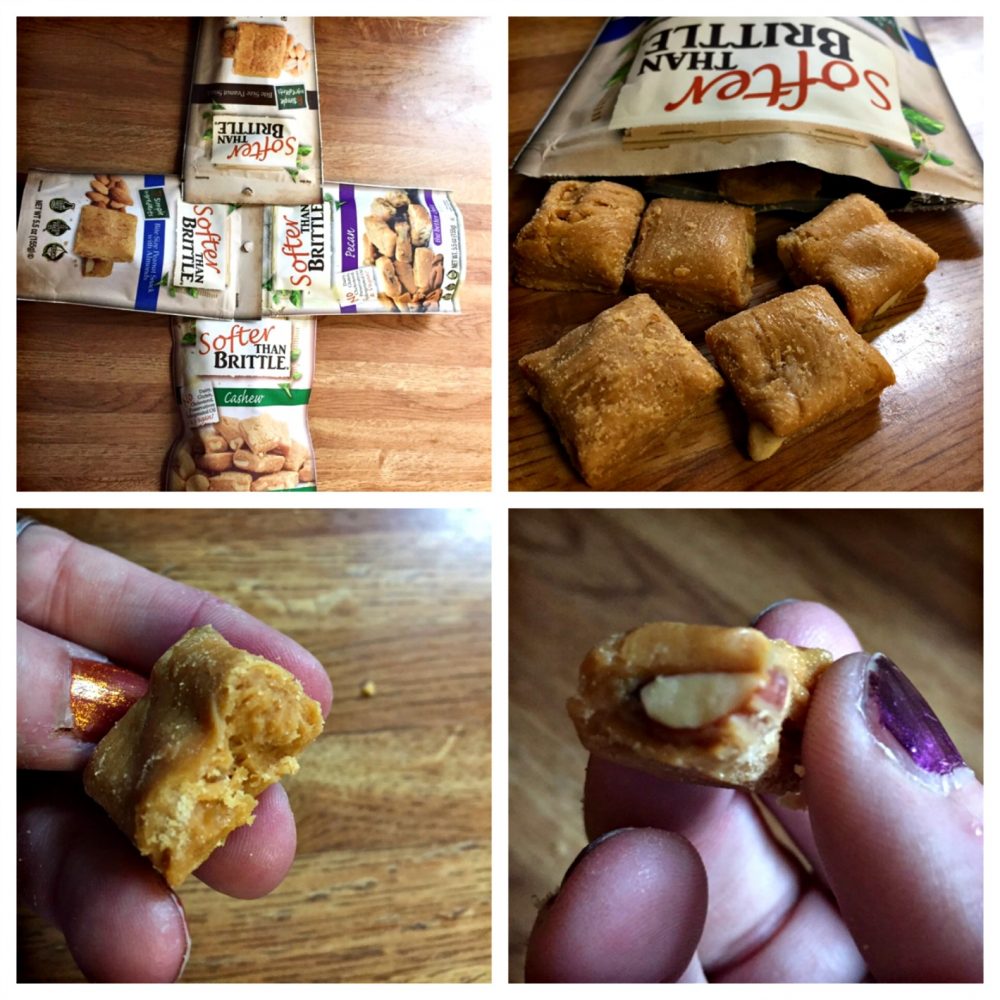 Holiday Party Treats
So, this year I am going to package some of these neat little treats and bring them to my parties. I have decided to use some tissue paper and ribbon to wrap it and make it pretty. Even if you aren't a big fan of the old, hard brittle, I believe you will still like these squares. The buttery flakiness crumbles apart in your mouth and you have no choice except to scream in delight! Ok, I may be going a little far, but you get the message. They would also make great gifts for hard-to-buy-for teachers. All you need is a pretty ribbon. Simply tie a colorful bow on the already bagged treat, and you have a great gift!
Connect with Softer Than Brittle/ Facebook/ Twitter/ Instagram/ Pinterest/