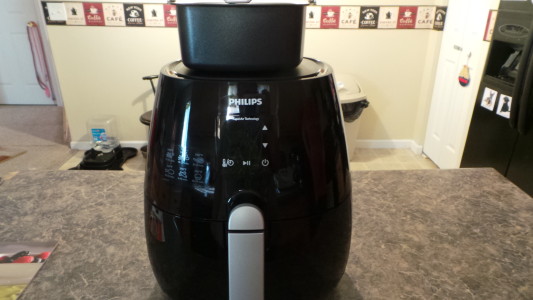 I love to cook, but one kitchen appliance I will not use is a fryer. I want my family to eat healthier and yes, that means I won't fry any foods. I do miss the fried foods, don't get me wrong, I just don't miss the grease that comes along with it. Well recently I was asked to Test the Philips Airfryer
and Video Chat with MasterChef Luca Manfe and I was so excited!
I will tell you a bit about the Philips Airfryer and then share a delicious recipe I learned while watching the live stream with MasterChef Luca Manfe.
It works by combining a grill and fast-circulating hot air to prepare foods that you would normally need to deep fry to get the same results. Most importantly, the AirFryer does this without the need for extra oil so you can effectively make chips and other snacks with up to 80% less fat than conventional frying.With the Philips AirFryer I can now fry, grill, bake and roast some of our favorite dishes with ½ tablespoon of oil or less. Making our meals healthier.

I had a wonderful time last month trying out the Philips Airfryer while attending the virtual event with MasterChef Luca Manfe. He taught me how to make a breakfast frittata using the AirFryer, something I never thought I would make.
The breakfast frittata came out so delicious. The Philips AirFryer is so easy to use and cuts the cooking time down. Now I am able to give my family some of their "fried" favorites without compromising their health. The rapid air technology allows for healthier frying and also creates less smell than conventional fryers. Check out 2019 air fryers: https://the10co.com/best-air-fryer/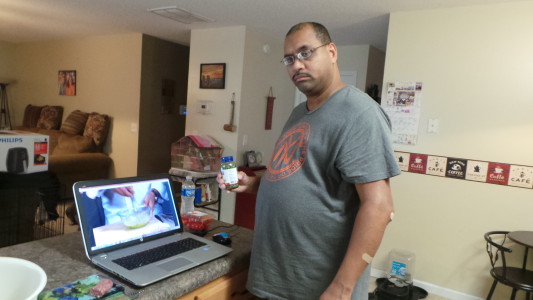 The secret behind the Airfryer is "rapid air technology", which enables the machine to fry with air, resulting in food that is crunchy on the outside and tender on the inside. The Airfryer not only fries, but also roasts, bakes and grills. I love that the oil pan, frying basket, baking tray and inside of the fryer have a durable nonstick coating for quick, easy cleanup. Oil pan and basket are also dishwasher safe.All for an easy cleanup!
One thing I really love is the recipe booklet that comes with the AirFryer. It also comes with a Quick Start Guide which details the cooking times and temperatures to use with all types of food – from thick frozen fries to fish fingers to steak and chicken, yummy!
I know I will enjoy cooking more with our AirFryer, it is easy to use and clean and will allow me to make some of my families favorite dishes in a healthier way.
The Philips Viva Digital AirFryer can be purchased from Williams-Sonoma.
Breakfast frittata
Ingredients:
· Philips Airfryer

· Philips Airfryer baking accessory

· 3 eggs
· ½ Italian sausage
· 4 cherry tomatoes (in half)
· 1 tablespoon olive oil
· Chopped parsley
· Grano Padano cheese (or parmesan)
· Salt/Pepper
Instructions:
1. Preheat the AirFryer to 360 degrees
2. Place the cherry tomatoes and sausage in the baking accessory and bake at 360 degrees for 5 minutes.
3. In a small bowl, whisk the remaining ingredients together.
4. Remove the baking accessory from the AirFryer and add the egg mixture, making sure it is even. Bake for another 5 minutes.
Please PIN: