For most of my life, I've either started the mornings with cereal, eaten it as a snack or sometimes as a lazy dinner. I grew up on so many delicious varieties and we can't forget about the flavorful milk left behind. This favorite breakfast option has evolved so much since I was a child. There are so many cereals available now that are healthy and wholesome. If you haven't tried Barbara's and Mom's Best cereals yet, you should.
Barbara's and Mom's Best: Delicious and Affordable Cereal for the Entire Family
I was happy to receive a box full of cereal to share with my family. We've been a fan of Barbara's for a while, but excited to try out Mom's Best. The best part is that Barbara's cereals are all Non-GMO Project Verified, made from simple and wholesome ingredients. Mom's Best cereals are free of artificial flavors, preservatives and high fructose corn syrup. Cereals like Barbara's and Mom's Best can be enjoyed any time of day, whether to start the day with a balanced breakfast, to take with you as a snack, and even to enjoy as a night time treat. They're fun, great-tasting cereals with honest and high-quality ingredients.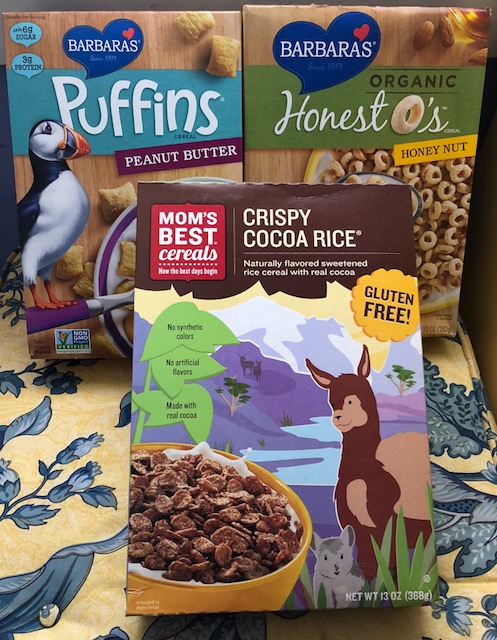 Barbara's Peanut Butter Puffins
A blast of peanut butter and crunchy corn and oat pillows combine to make a family favorite.
Barbara's Honest O's Honey Nut
Organic honey, almonds and whole grain oats are toasted to crunchy perfection for a bowl full of goodness.
This yummy rice cereal is naturally flavored and sweetened with real cocoa—plus it's gluten free.
Connect with the brands below to discover more about them and their retailers. Give them a try for the holidays!
CONNECT WITH…
BARBARA'S: Site | Facebook | Twitter | Instagram
MOM'S BEST: Site | Facebook | Twitter